Note: Always consult with a medical professional prior to making decisions on behalf of your child or if you are pregnant. This article is not medical advice. Raising Them is ad supported and may earn money from clicks.
Are you tired of your child using your living room walls like his own personal coloring book? While your young artist might have excellent skills, you want him to explore those talents in the appropriate areas of your house. Using the best toddler easels gives your child a safe way to express themselves that doesn't require using a Magic Eraser on your walls later.
Toddler easels are always a great present if you're looking for a gift for Christmas. Toddlers love easels, especially when they have extra features, such as a chalkboard on the opposite side. They don't always have to look childish; some blend right in with the decor of your house.
How to Pick the Best Toddler Easels
Manufacturers created dozens of different options for toddler easels so that you can find them in various styles and features. We took a look at the top choices on the market to help determine the key elements that let you pick the right easel for your toddler.
Durability
When it comes to anything that you purchase for your child, it needs to be durable. Unless you want it to break within a few months of use, the easel needs to be sturdy and durable. Take a look at the materials used to make sure it's strong enough to withstand the abuse your child will surely dish out.
Versatility
Ideally, the easel you select can be used for both drawing and painting, or two different functions. A multifunctional easel lets your child have more creative freedom. That's one of the most important things, and it'll keep your child more engaged with the easel.
You want to look for dual surfaces. Most easels on the market have dry erase on one side and chalkboard on the other side. That gives your child two surfaces to work on, and that options possibilities.
Easy to Clean
Your child is going to play with and enjoy the easel, so that means it's going to get dirty. The easel must be somewhat easy to keep clean. The plastic surface is the easiest to clean because you can scrub it however you want, or you can use a Magic Eraser. Wooden frames are easy to keep clean if they have a coating on the surface.
The Size for Storage
Can you easily store the easel when it's not in use? You'll need to consider if you want to leave the easel up at all times, or if you need to be able to fold it up for secure storage.
The Height of the Easel
How tall in the easel? You need to pick an easel based on your child's height. Some don't think that this is an essential factor, but since all easels are different sizes, you want your child to be able to reach and enjoy using as much of the easel as possible.
Social Development
If you have a double-sided toddler easel, your child can practice his social development skills. Also, their artwork is an expression of their thoughts and feelings that they might not share.
The 7 Best Toddler Easels
View on Amazon
Almost any parent knows the name, Melissa & Doug. They're one of the best-known brands of children's toys. Their Deluxe Standing Easel is a large easel made from wood, which is standard for their products. Melissa & Doug makes, primarily, all wooden toys.
This is a double-sided easel that makes it easy for two kids to play at one time, or your child can have twice the fun. One side is a chalkboard, and one side is a dry erase board. Then, It also has a built-in paper roll that lets kids get creative with paint, markers, crayons, and more. All of these options give your child the freedom to decide how he wants to create his art.
We like several features of the Deluxe Standing Easel, such as:
You can easily fold it up, making it easy to store when not in use.
Your child has the option to paint and draw with this easel.
We like that it can easily be cleaned.
The additional clips keep the paper in place at all times when your child is coloring.
It has an adjustable height function that lets you pick different heights based on the size of your child.
The trays are removable, making it easier for you to clean them.
The Pros
Can Paint & Draw
Adjustable Height
Durable
Easy to Fold for Storage
The Cons
Pricey
Assembly Might Be Complicated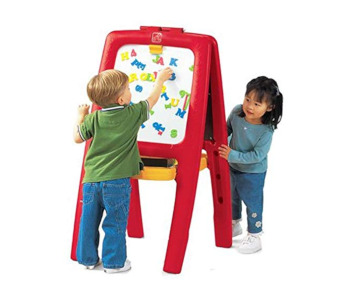 View on Amazon
Step2 is a famous brand of children's toys and products, and they're known for creating some of the most durable products for kids. The Step2 Easel for Two is great for two kids, and they can use it for painting and drawing. Seventy-seven magnetic letter tiles are included with the board, and that can help with your child's academic success.
On one side of the Easel for Two, you'll find the standard chalkboard, and the other side is a metallic dry erase surface. Your child can doodle on the writable surface; it's perfect for colored chalk and whiteboard markers.
Some of the other reasons that the Easel for Two is so highly rated include:
It can be easily folded and stored away when not in use.
It's made of durable plastic, but plastic will degrade over time. However, it's thick and meant to handle abuse.
The extra-wide base allows for greater stability, so your child won't tip it over as easy as other options.
You can use it with two kids; It's the perfect height for two-year-olds.
Step2 added two deep storage trays on both sides of the easel, which are great for paintbrushes, dry erase markers, chalk sticks, and other mediums.
There is an extra-large clip fully integrated at the top on both sides of the easel, perfect for securing craft paper.
Kids love the magnetic aspect of this easel. You can teach about basic magnetic concepts, and play with magnetic toys.
The Pros
Great for Little Kids
Folds Easily for Storage
Works with Two Kids
Affordable
The Cons
Questionable Durability
Doesn't Include Chalk or Markers
View on Amazon
Here is another toddler easel by Step2. It's a bit larger, so it's not a great choice if you're looking for a space-saving easel. However, despite the size, the quality and details make it one of the best options. It is designed with a stool, so your child has the additional benefit of comfort.
The Flip and Doodle has a fully magnetized whiteboard that is perfect for coloring with dry-erase markers. It's also great if your child has magnetic alphabet letters or shapes. The large clip on top makes it easy for your child to hang pieces of paper to color or paint.
A few other things to consider are:
It also includes state of the art flip features for moving between papers and designs.
Storage is included.
It's made to be durable and created from dense, sturdy plastic.
The desk features a magnetic dry-erase board.
Kids love the molded trays for markers, pencils, and more, along with the cup holder. The cup holder is integrated into the middle of the desktop, holding paintbrushes or markers quickly.
The back of the Flip and Doodle has storage bins that are great for books, coloring boxes or other items.
The Pros
Easy to Assemble
Storage Included
Easy to Clean
Versatile
The Cons
Not Space-Saving
It Includes a Stool Not a Chair with a Back
View on Amazon
It's hard not to love he Elk & Board Painting Easel is the perfect height for little kids. You can use either side of the easel, and it's easy to clean after your child uses it. Elk & Bear also includes letters that can be used to help with reading and writing skills. When your child isn't using the easel, you can fold it up and store it out of the way.
Two children can use the Elk & Bear Painting Easel at the same time. The easel has two different sides that can be used at the same time. One side is a chalkboard, so it's great for all different kinds of chalk mediums. The other side is a whiteboard.
A few other reasons you might want to buy the Elk & Bear Painting Easel include:
It's one of the most affordable and versatile easels on the list.
This easel is geared towards kids who are between the ages of 3-5 years old.
A dry-erase marker, eraser, and chalk are included with the set.
It measures 29.9 inches, which is an excellent height for toddlers and little kids.
The handle at the top makes it easy to move from place to place.
There are two wooden trays at the bottom that can be used to store art supplies.
The Pros
Foldable
Affordable
Includes Magnetic Letters
Built-in Handle
The Cons
Not Adjustable
Large Size
View on Amazon
As you can tell by this list, we are a huge fan of Step2 and its products. The All-Around for Two Easel is a budget-friendly toddler easel that is great for families with more than one child. It might not offer the painting features, but it has different letters included for academic development.
Something that we like about the All-Around for Two is the wide stance of the legs that make it very stable and secure. It decreases the chances that your child will knock it over or tip it on a child.
Just like the previous Step2 toddler easels, the All-Around for Two offers many great features, such as:
It's quite easy to clean.
You can fold it down when your children are done play with it for the rest of the day.
The kids can draw, paint, color, and more with a dry erase board on one side and a chalkboard on the other side.
There are a large tray and two removable storage bins that are easy to clean and holds art supplies. These storage trays can be attached to the side of the leg frame on either side, s your child has three total storage compartments for organizing art materials.
It doesn't require complicated adult assembly.
It has a built-in clip to attach paper easily. That clip gives your child the chance to paint or draw on paper.
The Pros
Foldable
Great for Two Kids
Affordable
The Cons
No Painting Feature
Not as Versatile As Others
View on Amazon
Hape is another company that is known for creating high-quality wooden toys, and the All-in-One Wooden Art Easel is one of their best-sellers. We love this easel if you want something that is for the long-term that will grow with your child for years to come. The height is fully adjustable, perfect for your toddlers as they grow older.
One side of the easel is a magnetic whiteboard that's perfect for dry-erase markers as well as any fun magnet accessories. On the other side of the easel, you'll find a blackboard that is great for drawing with standard or colored chalk.
Other features that we love about the Hape All-in-One Wooden Art Easel include:
The built-in paper roll is easy to refill.
It has a drip tray that is perfect for catching drips as your child creates his next masterpiece. That tray can also be used for storing art materials.
It comes with three clear pots that your child can fill with his favorite paints. Those posts also double as a container for water for watercolor sessions.
The easel is made of non-toxic materials.
You can adjust the height easily with the turn of a few knobs.
The Pros
Adjustable Height
Includes Paper Roll
Comes With Paint Storage Cups
Built-in Storage Trays
The Cons
Not Locking Mechanism for Paper Roll
View on Amazon
Here we have another option for the best toddler easels, and the Kids Easel with Paper Roll is one of the top-rated picks by parents. It is a functional easel that comes with all of the supplies included. You'll love the versatility offered by this choice, plus it's made with a sturdy wooden design that won't break. It's there to last.
Here are some of the other features we love about the Kids Easel with Paper Roll.
It works great for kids three years old and up.
It's fully adjustable when it comes to the height of the easel.
You can fold it for easy storage.
Kids can play their way because it works for paper, magnets, whiteboard, or a blackboard.
It includes five no-drip paint cups with built-in brush holders. You don't have to worry about the mess.
Your child's art supplies can be stored in one of the three large, cloth storage bins on the bottom.
The Pros
Versatile in Functions
Storage Bins Included
Foldable Design
Durable Materials
Final Thoughts
Buying one of the best toddler easels is an excellent investment. Easels are a toy of timeless fun. It can be with stickers and crayons, or your other child might prefer to use paints. Either way, your child will have plenty of fun playing with his new toddler easel.
Disclosure: Raising Them is a member of the Amazon Affiliate Program. We may earn compensation from clicks to Amazon and other websites.