Note: Always consult with a medical professional prior to making decisions on behalf of your child or if you are pregnant. This article is not medical advice. Raising Them is ad supported and may earn money from clicks.
If you're an active parent, you're probably looking for ways to include your little one in your normal exercise routine. A regular stroller won't be up to going on a jog or a run with you, but a good jogging stroller will open new horizons for you and your little one.
But, a jogging stroller needs to have a few more precautions to keep your little one safe. It's even more important to have a good stroller when it comes to jogging strollers than it is with your normal stroller.
So, we've picked some of the best jogging strollers out there, done the research, and given each one a rating. That way you can save some time and still know that you're getting on the best jogging strollers out there. We'll go over the pros and cons of each model, as well as highlighting what kinds of people each stroller works best for.
Bargain
Baby Trend Expedition Jogger Stroller
4.5/5.0
Check Amazon
Best Value
Joovy Zoom 360 Ultralight Jogging Stroller
4.6/5.0
Check Amazon
Top Pick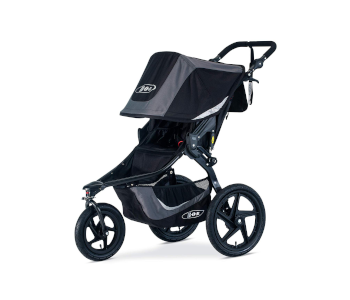 BOB Gear Revolution Flex 3.0 Jogging Stroller
4.9/5.0
Check Amazon
Quick Comparison;
| Best Jogging Strollers | Stroller Weight | Weight Capacity | Check the Price |
| --- | --- | --- | --- |
| BOB Gear Revolution Flex 3.0 Jogging Stroller | 28.5 lbs | 165.35 lbs | Check the Price |
| Chicco TRE Jogging Stroller | 25.8 lbs | 55 lbs | Check the Price |
| Thule Urban Glide 2 Jogging Stroller | 25.3 lbs | 75 lbs | Check the Price |
| Joovy Zoom 360 Ultralight Jogging Stroller | 25.7 lbs | 75 lbs | Check the Price |
| Bumbleride Speed Jogging Stroller | 36 lbs | 65 lbs | Check the Price |
| Baby Trend Expedition Jogger Stroller | 25.5 lbs | 50 lbs | Check the Price |
Differences Between Regular Strollers and Jogging Strollers
A jogging stroller has several key differences from your regular stroller. You can use a jogging stroller as a regular stroller as well, but the reverse isn't true. However, jogging strollers aren't usually convertible, so they're best for single baby families and families with a several year age difference between children.
While there are some side-by-side jogging strollers like regular strollers, they are difficult to use and are usually more expensive than a regular side by side.
Suspension:
One of the biggest differences in jogging strollers is that they have a good suspension system. A jogging stroller is designed to absorb the bumps and shaking that comes with moving quickly. Even the smoothest terrain can be unsafe in a regular stroller.
That's because your little one is particularly vulnerable to shaking and bouncing. So a good suspension system lets you enjoy a good jog without the risks to your little one.
Larger Wheels:
You'll also notice that jogging strollers have larger wheels as a rule. The wheels are part of the suspension system, and that design makes it easier for the whole system to absorb bouncing and impact.
There are generally a few different types of wheels. Rubber wheels are usually the best at protecting your little one, but they can be less durable and may require an air pump. Plastic wheels are getting increasingly common, but they put more stress on your suspension system.
If your normal jogging route it relatively smooth, you can probably go with either type of wheel. If you like to jog along hiking trails and other rough terrain, you might be better served by rubber wheels or wheels with a thicker tire instead of a wide rim.
Leg Room:
Another difference is that jogging strollers are typically designed to give you a little more legroom while you run. That may mean that the angle of the seat is a little different. But a good jogging stroller will still give you plenty of seat and storage space.
The design difference makes it easier to jog and run without having to shorten your stride to avoid kicking the stroller. Even if your little one is old enough that a rough ride isn't very dangerous, it's still better not to jog with a regular stroller. If nothing else, your shins will thank you for having the right equipment.
The Best Jogging Strollers:
Before we start looking at the best jogging strollers, it's important to note that even the best jogging stroller isn't safe for infants.
Never take a baby younger than 6 months with you for a jog. Even with all the adaptations that make a jogging stroller safer, there is still some risk for your child until they've reached the developmental milestones that protect their head from minor bumps and bruises.
If you're not sure whether your baby is ready to use your jogging stroller, consult with your pediatrician. Every baby is different, and your doctor will help you make the safest decision for you and your child.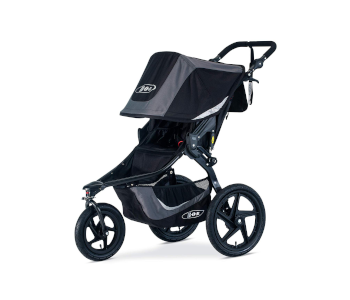 View on Amazon
Editor's Rating: 4.9
This jogging stroller is a good option if you're looking for a good all-purpose stroller to take on workouts across all terrain types. This stroller is also a great option for zoos and other outdoor trips where the terrain might be a little bumpy.
The suspension system in this stroller is designed to contain bouncing and vibration from the wheels. It's good for jogging, taking on hiking trips, and other off-sidewalk adventures with your little one.
The suspension system is also durable, so you won't need to worry about getting this jogging stroller serviced. It's more than up to the task of protecting your little one the whole time they need the stroller.
A braking system on the handle makes it easier to stop this system smoothly. That means less upper back and shoulder strain for you, and a gentler stop for baby.
Adjustable handlebars make this a good option for all parents. It's simple to raise or lower the handlebar, so it's a good option for short and tall parents. You can also change the height settings so that both parents can enjoy a jog with the little one.
The canopy is also an important feature of this jogging stroller. The 50 FPS fabric is designed to keep your little one both cool and protected from sunburns. That way you won't have to worry as much about sunscreen, and can enjoy a stroll that much faster.
This stroller made our top pick list because it's easy to use, and they've accounted for most of the concerns and problems parents run into when it's time to take their new baby on a jog.
However, the wheel system on this stroller does have one slight problem. In cold wet weather, the front wheel may stick or freeze if you stand still too long between jogging. That isn't enough of a problem to overlook the serious advantages of this system, however, since most strollers will have a similar issue.
Pros
Easy to use braking system
Smooth suspension
Comfortable toddler seat
The canopy provides FPS protection
Durable wheel design
Side vents keep your little one cooler and more comfortable
Cons
Front wheels can freeze in bad weather
Slightly more expensive than some alternatives
Specs
50 FPS canopy protection
Side vents
100 lbs seat weight capacity
Hand and foot breaks
All-terrain wheels
View on Amazon
This stroller has the larger wheel profile you'd typically expect to see on a jogging stroller combined with thick rugged tires and a design that accommodates many different terrain types.
This stroller does have accommodations and a setting for your little one while they're still younger than 6 months. While this stroller is safer, in that configuration, for your little one, we still recommend consulting with your pediatrician before taking your infant on a jog.
The tires are pneumatic tires, which means that they operate with air pressure, and need to be refilled occasionally. The good news is that the tires don't go flat easily. The bad news is that you might need to refill them slightly more often if you live somewhere with big temperature swings.
The fabrics on this stroller can really make your life a lot easier. They are water-resistant, and will usually bead water, juice spills, and everything else so that it just runs off the fabric without sinking in.
If you do need to clean the fabric, a simple wipe down with a wet washcloth or a disinfecting wipe will get the job done.
That means that these fabrics are stain-resistant, easy-care, and durable.
But it also means that the fabrics are crinkly, loud, and not as comfortable as softer, less durable, fabrics.
The suspension system on this jogging stroller also has two different settings. That means you have more options to customize the kind of ride your little one gets and can adapt a little better to your speed and the terrain. However, you may find it easier just to leave the suspension on one setting.
Pros
Custom suspension settings
Stain-resistant fabric
Adjustable handles
Easy to maintain
Multiple configurations mean more comfort for your little one
Cons
Handbrake isn't as reliable as some models
Wheels need to be oiled occasionally to stay quiet
Specs
Pneumatic wheels
Weatherproof fabrics
Maximum weight 55 lbs
28.5 lbs stroller weight
Can be converted into a side-by-side stroller if needed
View on Amazon
Editor's Rating: 4.6
This stroller is the first one we've talked about that comes in multiple color choices. While the aesthetics of your stroller should matter a lot less than the function, color can be a functional detail.
Blacks and grays, the most common colors for a jogging stroller are easy to clean and maintain. But, those colors also absorb a lot of heat from sunlight. That might be an advantage in the winter when a little extra warmth will keep your little one more comfortable. But it can be a serious challenge in the summer when extra heat is the last thing you need.
Choosing a cool color, like the light blue option this stroller comes in, can be a good functional option.
This stroller is also a more compact option overall. It's designed for a single hand fold, which means it's easier to store and easier to set up. It has a little less storage than you'd get with a larger stroller, but the basket will still easily hold diapers, beverages, spare clothes, and more for you.
We also appreciate that the storage basket has a zip-top design, which helps protect your stuff and minimize spillover and tripping risk while you jog.
The handlebar is adjustable, and the grips have an ergonomic design. That's especially important for jogging since you'll end up stressing your shoulders more at a jog than a walk and a good handle set up can make it more comfortable.
The stroller can also be turned into a side by side jogging stroller with a second stroller and a conversion kit.
We do want to note, however, this is one of the more expensive options. There are comparable models, in durability, weight capacity, and overall function, that are more affordable.
Pros
Zip top storage area
Multiple color options
More comfortable for you and your little one
All-terrain wheels + suspension system
Reclining seat
Lots of ventilation to keep baby more comfortable
Cons
Slightly smaller storage area
More expensive
The seat area is a little small
Front wheels may need tightening when it arrives
Specs
Maximum seat weight 75 lbs
25.3 lbs stroller weight
Adjustable handlebars
Pneumatic tires
4 color options
View on Amazon
Editor's Rating: 4.6
This more affordable jogging stroller is designed to give you all the protection your little one needs, without the high cost of specialty strollers. It's a little more affordable, which is part of why it gets our best value rating, but it also performs like the big-name premium strollers, the other part of the designation.
The 360 Ultralight has the same large pneumatic tires and wheels that you're used to seeing on a good jogging stroller. They're large enough to absorb some impact on their own, plus a good suspension system to make your jog even smoother for your little one.
The whole frame of the stroller is made of lightweight, strong, aluminum. That means less weight for you, making your jog easier, while still maintaining the durability you need for your little one's safety.
The polyester fabric is reasonably durable. It's a little louder and thinner than some alternatives, but it doesn't seem to be at risk for tears stains and other wear and tear.
Cleanup is easy. Soap and water will get the job done in most cases, and the fabric is completely stain resistant.
A relatively small storage basket is included under the jogging seat. It's got enough space for the necessities, but there are definitely larger options on other strollers.
We did appreciate that this stroller comes with the air pump you need to keep the tires inflated. That means you don't have to go buy a pump separately or hope that your bike tire pump will work for the new stroller.
The front wheels on this stroller are free-swivel wheels. That means you have a lot of maneuverability and can navigate twists and turns with ease. Or, lock the front wheels and you'll have added stability for straight runs and jogs with your little one.
Pros
Swivel or locked wheels
Comfortable handles
Highly affordable
Very compact folded design
High riding seat so your little one can see more
Cons
The seat has less padding than some alternatives
Need to tighten the wheels regularly (they come off without tightening)
Specs
Maximum child weight 75 lbs
Seat height 20"
25.7 lbs stroller weight
Minimum child weight recommendation, 15 lbs
Includes mesh side pockets for drink/phone storage
View on Amazon
Editor's Rating: 4.7
This jogging stroller is another premium option, but it's one that seems to have paid attention to a lot of the little details that can get lost in stroller design.
It's available in two colors, both of which are designed to reduce heat absorption and make your little one's ride a lot more comfortable.
It also has an oversized canopy. That's a good thing for you since it means you'll have to worry about things like sunscreen or a little drizzle. It's also a good thing for your little one since the extended canopy makes it easier to take a nap or just enjoy the ride without difficulty.
The canopy is rated UPF 45+, as good or better than many sunscreens.
Unlike many strollers, which usually offer front wheel suspension, this stroller has both front and rear wheel suspension systems. That means it has a smoother than average ride and is a lot easier for you to push.
The pneumatic tires are easy to maintain. They won't need filling very often and are very flat resistant. You might notice that your stroller feels heavier or harder to maneuver if your wheels are slightly flat. That does mean that you need a pump, but you should be able to use a bike tire or basketball air pump.
Front wheels are 12 inches, large enough to protect your little one, small enough to maneuver easily. The rear wheels are 16 inches, which makes jogging easier since the wheels eat ground relatively quickly.
Pros
Great suspension
Larger than average canopy
A reasonable amount of storage under the stroller
Larger seat area
Comfortable for jogging
Available in two heat-dispersing colors
Cons
Rather expensive
Bulky to store (mostly wheels)
Heavier than most strollers
Specs
12" front wheels, 16" rear wheels
All-wheel suspension system
Oversized UPF 45+ canopy
36 lbs stroller
Maximum child weight, 65 lbs
View on Amazon
Editor's Rating: 4.5
If this stroller weren't already our best bargain, it might have been most customizable instead. That's because the stroller comes in a wide variety of color variations. Unfortunately, those color differences are mostly in the details, most of the fabric is the same heat-absorbing black and gray.
Oddly enough, the color patterns are slightly different for different colors, so you may not be able to get your preferred pattern in your preferred color.
So, points for customization, no points for practicality.
Despite that, this jogging stroller performs remarkably well, considering its low price. It doesn't have some of the premium adaptations, but the stroller hits all the most important marks. It's safe. It's effective. It has enough space to let you jog comfortably. It has some added storage, and a canopy to keep your little one comfortable.
This stroller also has both child and parent trays, making it easier to bring your phone, small snacks, and other comforts with you. The two cup holders mean you can bring a sippy cup for your little one, and water for you.
We also liked that the storage basket, which is open, is rather large. You don't have weather protection for the stuff in the basket, but you'll be able to fit more in it.
The seat can hold your little one up to 50 lbs. That's a little on the low end for a jogging stroller, but still enough for the first several years.
Pros
Sturdy 5-point harness
Several color options
Tires are bicycle tires, easy to pump and maintain, easy to replace
Large storage basket
Trays for both child and parent
Built-in cup holders
Cons
Up to 50 lbs weight capacity
Slightly less suspension
Large wheels make for bulky storage
Specs
2 cup holders
2 trays
Large storage basket
Maximum weight capacity 50 lbs
25.5 lbs stroller weight
15 color options
Final Thoughts:
There are plenty of things you can get second hand or on the cheap when it's time to bring a new baby home. Things like old bottles, blankets, hand me down clothing, and toys will come in plenty from friends and family members with older children. Your parents may have a few contributions from when you were that age.
But, like a lot of baby-furniture, jogging strollers are one place that it's better to get them new if you can. That's because safety standards have been updated, and you never know what set of standards a hand-me-down uses.
That doesn't mean that you should leap for the most expensive option from the most premium brand, however. Think about the kinds of places you're going to be jogging with your little one. If the terrain is relatively smooth, or you're going to be going relatively slowly, you don't need all the bells and whistles.
Think of your jogging stroller as a more heavy-duty version of a regular stroller. If you have one of these, you probably don't need a regular stroller. Unless, of course, you want something a little lighter for taking in and out of the car.
Lastly, try to suit your jogging stroller to your specific needs. If your family tends toward large babies and big toddlers, it might be worth spending a little more to get a stroller with a high weight capacity. If there's a high chance that your baby will have fair skin, a larger canopy might be a good idea. If you jog every day, it's probably worth spending a little more to get a more durable stroller.
That's it. Hopefully, now you're more confident that you know what you need in a jogging stroller and have a shortlist of good candidates to choose from.
We've picked from a range of price and style, so while not every stroller is a good fit for you, we hope we've found a good stroller for just about every family.
Disclosure: Raising Them is a member of the Amazon Affiliate Program. We may earn compensation from clicks to Amazon and other websites.