Note: Always consult with a medical professional prior to making decisions on behalf of your child or if you are pregnant. This article is not medical advice. Raising Them is ad supported and may earn money from clicks.
It's inevitable when you have a new little one that you'll need to add a few accessories and changes to your everyday style. A diaper bag is a must-have for most families. You may even find yourself accumulating two or three of these helpful bags for different occasions and your different day to day needs.
But not all diaper bags are created equal. While there are a ton of differences between bags in any style, the backpack diaper bag style offers several distinct advantages (that we'll talk about later) that make it one of the most popular choices out there.
Backpacks also often mean that you have more space and flexibility when you're on the go. That's a huge advantage for families with multiple little ones, even if they don't all need the diaper part of your diaper bag.
We've found some of the best options in diaper bag backpacks, and rated them according to their functionality, along with any other pros and cons of the design. In addition to providing direct product recommendations, we've also put together a helpful buying guide so that you know which features matter most.
Let's get started!
Bargain
KeaBabies Large Waterproof Travel Baby Bag
4.6/5.0
Check Amazon
Best Value
HapTim Multi-function Large Baby Diaper Bag Backpack
4.6/5.0
Check Amazon
Top Pick
Mancro Large Capacity Diaper Bag
4.9/5.0
Check Amazon
Quick Comparison:
| The Diaper Bag | Material | Weight | # of Pockets | Check the Price |
| --- | --- | --- | --- | --- |
| Mancro Large Capacity Diaper Bag | Polyester, PVC, metal zippers, braided rope | 2.15 lbs | 11+ | Check the Price |
| HapTim Multi-function Large Baby Diaper Bag Backpack | Nylon | 2.2 lbs | 17 | Check the Price |
| KeaBabies Large Waterproof Travel Baby Bag | Water-resistant Oxford Fabric | 10.4 ounces | 7+ | Check the Price |
| HaloVa Diaper Bag | Water-resistant Oxford Fabric | 1.6 lbs | 5+ | Check the Price |
| Freshly Picked Convertible Classic Diaper Bag Backpack | Vegan Leather | 2.9 lbs (shipping weight) | 10 | Check the Price |
| Skip Hop Diaper Bag Backpack | Vegan Leather | 1.68 lbs | 6+ | Check the Price |
| Mokaloo Large Baby Bag, Multi-functional Travel Backpack | Water-resistant Oxford Fabric | 1.65 lbs | 13 | Check the Price |
Why Choose A Backpack Design?
A lot of people picture an over the shoulder diaper bag more like a purse or a messenger bag as the default diaper bag. Something big, clunky, and made of obviously plastic-y waterproof fabric.
In other words, most people picture a worst-nightmare diaper bag.
That's because a lot of diaper bags aren't obviously diaper bags anymore, and backpack style diaper bags can be some of the most subtle.
Backpack diaper bags come in a wide range of styles and colors. Some are better for people with a shorter torso, while some are better for a long torso or broader shoulders. They come in a variety of materials, each of which can usually be found in several styles.
Backpacks also have the advantage of allowing for better body mechanics overall. They distribute the weight of your baby supplies across both shoulders. Many backpack style bags offer the same kind of shoulder padding a normal backpack would.
You can also count on some useful interior divisions and external pockets when you go with a backpack style design. That's because manufacturers have mastered the art of maximizing backpack space for students and professionals, so they can easily do the same for parents.
It's also usually easier to find a backpack that will look normal no matter who is holding it. Other styles of diaper bag can often be more gendered, and clearly expect that Mom will be doing most of the carrying even though modern families can look very different.
Of course, you also have the benefit of having both hands free with this style. The even weight distribution makes it easier to chase after a hyper toddler, hold your baby, push a stroller, or any number of other important activities while you're out with your little one.
While there are plenty of great diaper bags across many different styles, the backpack style is still one of the most useful, versatile, and easy to use options for most parents.
Now, let's look at some of the best options on the market right now.
The Diaper Bag Backpacks:
View on Amazon
Editor's Rating: 4.9
This diaper bag is a good complete offering with a lot of pockets, plenty of interior space, water-resistant fabric, and even some space for a good-sized laptop. It's a good choice for parents who are frequently on the go, or who are looking for a more subtle looking backpack.
The backpack itself is easy to carry, which we always appreciate. The shoulder straps are nice and thick, with plenty of padding to help distribute weight.
That's important when you consider the weight of bottles, diapers, clothing, and other baby accessories, plus your laptop and everything else you need to get through a day with your little one.
There are insulated bottle pockets, specifically designed to hold bottles and keep them at the perfect temperature for your little one.
We also appreciated that this backpack, like several on our list, works well as an everyday bag even after your child doesn't need a true diaper bag anymore. In fact, you might find the insulated pockets and other adaptations make this bag more useful than a regular backpack.
It is a little on the heavy side, however, weighing in at about 2 lbs. That doesn't sound like much, but it can add up over the course of a long day caring for your child.
Pros
Lots of compartment space
Insulated pockets
Designed for busy parents and professionals
Incredibly durable design
Comfortable wide shoulder straps
Long-lasting zippers
Cons
Items in the top cooler pocket can sometimes fall into the main pocket when you open the bag.
Slightly different prices for each of the 2 colors
Specs
11 pockets
Wide main compartment
2.15 lbs
Waterproof nylon fabric
Sturdy metal zippers
Insulated pockets retain temperature for 2-3 hours
View on Amazon
Editor's Rating: 4.6
The HapTim diaper bag backpack is similar in overall design to our top pick backpack. It's slightly different in style, but has a similarly reasonable price, offers a huge number of specialized pockets and compartments, and even comes in a similar nylon fabric.
The main reason this bag didn't get our top pick rating is that it's just a little bit bigger and bulkier, especially when you've packed everything into it. That can be an advantage though, especially for families with several toddlers, or who are expecting multiples.
The other problem with this bag is that the main compartments are thinner, meaning that each can store less, even though the bag itself is larger. That isn't necessarily a problem, especially if you're highly organized. However, it does decrease the utility of the bag overall.
That said, this bag still has some serious advantages. It has wide padded shoulder straps, stroller straps, and a convenient top carry handle.
We also appreciate that the cup holders on either side of the bag cinch closed, making them perfect for smaller bottles, snacks, and other items you wouldn't normally trust to an open cup holder.
You'll also get a convenient portable changing pad with this bag, which means you can leave your main changing pad at home.
Pros
Lots of specialized pockets
Durable fabric design
Waterproof
Easy to clean
Comfortable straps
Stroller straps and a carry handle
Cinching cup holders
Changing pad included
Cons
Narrow main compartments
Bulky bag design
Many pockets and compartments can get confusing when you're in a hurry
Specs
2.2 lbs
Nylon fabric construction
Stroller straps included
Comes with a separate changing pad
Insulated pockets
View on Amazon
Editor's Rating: 4.6
This bag may not have as many pockets as some other diaper bags, but it has a wide main interior compartment that makes up for it in a lot of ways. This bag is also one of the more affordable options, without sacrificing style or the quality of the materials.
So, while you might not have as many hidden compartments with this option, KeaBabies has still come up with a good overall solution.
The back zipper gives you access to the main compartment, as well as a small security pocket for important items like your wallet, keys, or passport.
It also comes with a large waterproof changing pad. The smooth surface of the pad makes it easy to clean and disinfect after use but can also be a little uncomfortable for some babies and toddlers.
With a combination of shoulder straps, strollers, and carry handles, this bag is also ready for whatever situation you find yourself in. Overall, this is a great backpack for parents that are on the go and need a lot of cargo space, and it comes at a nicely affordable price.
Pros
Highly affordable
Large interior pockets
Security pocket design
Sturdy zippers
Several convenient straps and handles
Incredibly lightweight
Cons
Clips for adjusting the straps are made of plastic
Some users report stitching issues on the bag (replacements are usually sturdier)
Specs
10.4 ounces
12 x 8 x 16.5 inches
7 pockets
Comes with a separate changing pad
View on Amazon
Editor's Rating: 4.3
This backpack is a good fit for parents who are looking to get a diaper bag with a little more classical design. That is, one large open compartment with several much smaller side pockets. While this is a backpack design, the HaloVa bag looks just as natural held in your hand or hanging from your stroller.
This is also the first bag on our list that comes in more than one or two colors. The range does mean that some bags might seem a little more gendered than others, especially the light-powered pink.
The bag itself doesn't seem as bulky from the outside as the large interior would suggest. However, this bag is a little more obviously a diaper bag and is a less stylish option for parents that are concerned about their appearance.
The bag is also protected by a one-year replacement guarantee if any functional defects appear as you're using it.
Overall, this is a good and functional option. It's highly affordable and holds enough supplies for most babies, with some extra space left over for you. It's not as fashionable as some alternatives, but it's also a good bit lighter than the more premium designs.
Pros
Lots of storage space
Wide-open main compartment
Waterproof fabrics
Multiple straps
Comes in several different colors
Cons
Collapsing top reduces interior space
Not as many specialized compartments
Specs
1.6 lbs
Oxford fabric
90-day refund guarantee, 1-year replacement guarantee
5 plus pockets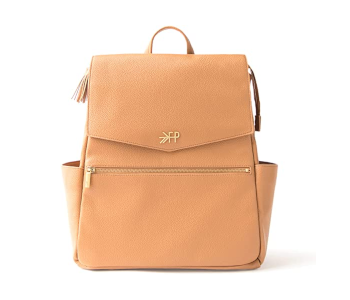 View on Amazon
Editor's Rating: 4.5
This bag would be rated higher, except that it's noticeably more expensive than similar bags.
This is a more premium version of a diaper bag. Somewhere between a classic diaper bag design and a more modern-looking backpack design, the Freshly Picked backpack is made from high-quality vegan Leather.
That means that this is one of the most stylish and eco-friendly designs, but also comes with a significantly higher price tag than your average diaper bag. However, if you can afford it, and want to have the best, this bag is a reasonable option.
This bag combines 10 pockets with a larger central compartment, so you get a little bit of both. The smaller specialized compartments are a little smaller this this bag than many, but that can actually make it easier to keep it organized.
It comes in a variety of colors, from neutral black and tans to more gendered pinks and silvered colors.
One major flaw we notice with this backpack is that the top collapses to close, which reduces the storage capacity of the main compartment significantly.
Pros
Very fashionable
Eco friendly
Lots of pockets
Comfortable straps
Can be worn several ways
Cons
Some users report shipping and delivery issues
Vegan leather can feel plasticky to some
Need to be careful not to nick or tear the material, tears can spread easily
Specs
6 interior, 4 exterior pockets
2.9 lbs shipping weight
Changing pad included
Optional shoulder strap (for crossbody wear)
View on Amazon
Editor's Rating: 4.4
Another synthetic leather bag, this one is a little less expensive (although still pricier than most of the alternatives on our list) and comes with a very different design. However, it's also worth noting that different color finishes come with a significant difference in the final price of the bag.
The squarish backpack design is comfortable for people with a shorter torso but may be less comfortable for people with a long torso or wide shoulders. However, a few details on the front make this backpack a lot more stylish.
The bag comes with a useful, machine washable, changing pad.
It's also a good option for professional parents and parents that are constantly on the go. A back pocket is perfect for an up to 15" laptop.
We do appreciate that, despite the faux leather design, this backpack is still a good bit lighter than many diaper bag backpacks.
Pros
Lightweight
Fashionable design
Space for a laptop
Phone pockets and other 'mommy' pockets included
Cons
More expensive
May not be a good option for taller parents
Specs
1.68 pounds
Vegan leather
5 color options
6 pockets
View on Amazon
Editor's Rating: 4.5
This last diaper bag is a good combination of function and fashion. You'll get a combination of 13 internal and external pockets. It comes in three colors, has a USB charging cord for your phone, and plenty of space your all your little one's necessities.
The side pockets are designed to make carrying baby wipes, additional drinks for yourself and your little one, and other tools much easier.
The twill polyester of this bag is also extremely durable and easy to care for. Water-resistant, it's unlikely to stain or absorb unwanted scents.
This is a good option for parents who are looking for a reasonably priced, highly effective, backpack, but who are less concerned with fashion. It's also a good choice for parents who want a bag that will work as a regular backpack as well as a diaper bag.
Pros
Lots of pockets
Can charge your phone on the go
Roomy interior
Looks more like a backpack than a diaper bag
Cons
One of the insulated pockets only fits smaller bottles
Less durable than some alternatives
Specs
Polyester twill fabric
13 pockets
Comes with a charging port
10.4 ounces
Buying Guide:
Your diaper bag is one of the accessories you're likely to use most after your little one is born. These bags carry a lot more than just diapers and wipes. Many also offer special compartments for bottles, spare clothes, and other necessities.
Plus, many parents will stash their wallet, keys, phone, and other necessities in the diaper bag too, just to have one less thing to carry with them.
For something that's going to get so much regular use, you shouldn't just take our word for the best options. This buying guide will help you make an informed choice about your bag, including its functionality and some of the features that can make the difference between loving and hating your new accessory.
Straps:
The straps on your diaper bag matter just as much as the straps on any other backpack. Your diaper bag isn't likely to be a light item, despite the low total weight of most diapers. It's important to find straps that will be comfortable for your and your partner or co-parent. Anyone who parents your child is likely to need to use this bag, so it should ideally work for everyone.
Look for wide straps that adjust easily. Wider straps are better for your shoulders. They can also help with posture problems since you're less likely to lean forward with wide shoulder straps.
Consider a backpack that has an optional waist strap. Even though you aren't likely to pack your backpack so heavy that you need the waist strap, it can still be a useful addition.
Waist straps are especially important for parents with pre-existing back or shoulder injuries.
Stroller Straps:
Stroller straps can help you take a load off, literally, by hanging your bag on your stroller instead of your back. While many strollers have an under-seat storage area, that might not be accessible enough for your diaper bag.
Stroller straps are an optional addition, but they can save on wear and tear on the main straps of your bag. They're a good option for parents who like to be on the go, particularly hikers and frequent attraction-visitors.
Comfort:
It might seem obvious, but you would be surprised how many parents don't consider their own comfort when they buy a diaper bag. Remember that you might be wearing this accessory for hours at a time and that it will be filled with heavy items like full bottles.
Look for a backpack that rests comfortably against your back, has a few adjustment options, and, ideally, can be worn in several different ways. Check the backpack with everyone who might use it as quickly as possible so that you can return it if it's too uncomfortable for one of you to use.
Pockets:
A good diaper bag backpack will have lots of pockets. Look for a divided area inside the backpack. That will make it easier to stay organized. 2-3 pockets are sufficient, but if you have more, you'll probably use them.
Specialty pockets like insulated bottle pockets, or a separate area for dirty diapers if you need to change somewhere without accessible trash cans, can make your life a lot easier.
External pockets are also helpful. Look for a backpack with a cup holder for your beverage. You may want to consider looking for a backpack that can hold your wallet and phone separate from your baby's items as well.
Materials:
Most diaper bags are made from durable, water-resistant, or waterproof materials. You can get them in a range of fabrics, and even vinyl and leather. We recommend going with a fabric option because those tend to be easier to clean and maintain, and less likely to pick up a permanent scent.
Conclusion:
We've gone over some of the best diaper bags on the market, as well as a buying guide to help you pick the right bag for you. Hopefully, now that you've read this guide, you not only have a better idea of your options, but also a better idea of which features, and benefits matter most to you.
Disclosure: Raising Them is a member of the Amazon Affiliate Program. We may earn compensation from clicks to Amazon and other websites.