Note: Always consult with a medical professional prior to making decisions on behalf of your child or if you are pregnant. This article is not medical advice. Raising Them is ad supported and may earn money from clicks.
When it's hot outside, you don't want to stay inside, so trying one of the best water tables for kids keeps your child safe and happy. Water tables are the answer for families who want to splash during the dog days of summer without needing a private pool or wanting to drive to the local community pool.
Water tables for kids feature accessories that encourage your child's development while enhancing their gross motor skills and creative role-playing. These tables are small, typically smaller than a standard table. With all of the accessories, you have a little water park for your child.
The Benefits of Water Play for Kids
It's natural for kids to want to play in the water when the weather is hot outside. However, water play can offer benefits to our kids other than just keeping them cool or keeping them entertained.
Water play helps to encourage problem-solving skills. Kids can explore and make discoveries about water. They begin to ask and learn how and why things happen, such as why some things float and others sink.
At the same time, playing with water encourages physical development in our kids. They may not be jumping or climbing, but it promotes hand-eye coordination through pouring water, squeezing toys, stirring, and squirting.
Plus, water play encourages sensory experiences as kids are exposed to different textures, such as gritty, slippy, and slimy. Kids can play in water that is different temperatures, depending on the water and time of the day.
Let's not forget social skills! Many of these water tables are large enough that more than one child can play at the same time. Kids need the opportunity to play together, sharing, and working on skills together. Playing with a water table helps with social and emotional development.
Last, playing with a water table encourages language development. Kids are exposed to a new world and a new environment. They learn words like funnel, whirl, squirt, and sieve.
What You Need to Consider When Buying the Best Water Table
You have plenty of choices for the best water table, so you have to figure out what is the right choice for your child. Here are some considerations.
Age of Your Child
Kids of different ages play with water tables. You can find water tables that are better for toddlers as young as one year and other tables for older kids. You want to make sure that the water table you pick matches your child's age. Otherwise, it's a waste of money.
Number of Kids
You should also think about how many kids are going to play with this water table. Do you often have visitors or play dates with other kids? The larger tables have compartments and accessories that can entertain more than one child.
Design of the Table
Look at the design of the table. It should be fun and enticing for children. Some are both water and sand tables, even though they do cost a bit more. Those offer the most value and best design for kids. The table should meet the developmental milestones of each age group of children that will play with it.
Accessories
Last, look at the accessories that are included with the table. You don't want to have to purchase accessories along with the water table. Ideally, the table will come with several accessories and toys that keep your child entertained. They might be boats, squirting toys, water wheels, or buckets.
The 7 Best Water Tables for Kids
View on Amazon
The Step2 Rain Showers Splash Pond adds waterfalls and plenty of pouring fun for toddlers. The table has a large pail that lets kids scoop water from the pond into the waterfall tray. There are maze pieces that are easy to rearrange, making different waterfall patterns.
The rainshower effect comes with a realistic rainfall sound, and then you can use the springboard to pretend that figures and characters jump into the pond. There are many ways for this water table to engage in fun, creative play, such as rebuilding waterfalls, letting kids explore cause and effect.
Step2 includes 13 accessory pieces, a draining plug for easy cleanup, and three water-squirting toys. Together, with the colorful and fun design, the Step2 Rain Shower Splash Pond is a great selection.
PROS
13 Accessories Included
Easy Drainage Via Plug
CONS
Hard to Assembly
Rainwater Pours Too Fast
View on Amazon
The Little Tikes Spiralin' Seas Waterpark looks like a fun-filled waterpark that fits on a 29-inch diameter table. Even though the size only fits one child, your child will have a blast playing with this water table that feels like a waterpark-inspired toy.
At the center of the table, you'll find a tower with a funnel at the top that lets the water spiral downward. There are a liquid scooper attachment and a mini Ferris wheel. At the back of this wheel is a lever that kids turn to scoop up liquid, and the balls can spiral down the tube.
Above the waterwheels, there is an orange funnel where kids pour liquid, and the water comes out the topwater water wheel, turning counterclockwise. This water table holds a maximum of 7 gallons of water, and it comes with five character balls. Kids spend hours pouring water into the funnel.
It does need to be assembled, but it's pretty easy to do so. It takes 10 to 15 minutes in total to put it together since all of the parts snap together.
PROS
7 Gallon Water Capacity
5 Character Balls
Scooper
View on Amazon
The Splash N Scoop Bay features multiple play modes for kids, perfect for all kids. This table has an area for sand play and a water area, and these two areas are entirely separate. A plastic border neatly separates the zones. It comes with a cover that goes over one section of the table while the other side is open.
The Splash N Scoop offers endless hours of creative, imaginative play. Your child can play with sand and water or both – it creates a lot of opportunities for adventures. This water table is large enough for more than one child can play at the same time, perfect for social play.
This water table comes with a cover and plenty of accessories, such as a shovel, water tower, cup, slide, spinner, and a scooper. You can add extra items, and set up right out of the box is easy as pie!
PROS
40lb Capacity
Elastic Tie-Downs
Several Accessories
CONS
No Storage for Accessories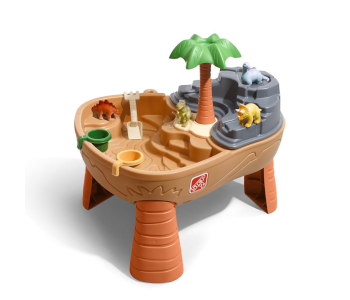 View on Amazon
Do you have a dinosaur loving child? The Step2 Dino Dig is a two-sided table that has an area for sand and space for water. Your child can pour water into the pretend volcano and watch as the water comes down the mountain, just like lava.
There is a large, realistic palm tree in the middle of the table, and your child can put the dinosaurs under the tree and pretend that they're drinking. This water table is large enough for more than one child to play together.
Step2 included a two-sided shovel and rake, so your child can dig to the bottom of the sand. It also comes with two buckets for sand play and four dinosaurs. When you're done with the table, there is a drain plug to let the water out when playtime is done quickly.
PROS
Large Size
Sand and Water
Great Accessories
CONS
Takes Time to Assembly
Sand and Water Mix Easily
View on Amazon
This water table is great for kids 2-years-old and up. It has a fun pirate theme that lets your kids have fun playing creatively. Anchors Away has water cannons, which the kids can use to aim and squirt water. Little Tikes added a skull and crossbones flag so that the water table looks like a real pirate ship.
Little Tikes added a spinning feature that creates currents in the ship, moving toys and objects around. The mast in the center of the table acts as a water fountain, constantly flowing with water. Kids can spin the steering wheel, pretending to be the captain of a ship. They can even raise and lower an anchor by cranking a handle.
The table comes with several accessories such as a bucket, a scooper, a strainer, a boat, a life preserver, a squirting shark, and two pirate characters. It's the perfect size for several kids to play at the same time.
PROS
Water Cannons & Spinning Features
Anchor
Several Accessories
Fits More Than One Kids
CONS
Poor Quality Drain Plug
No Cover Included
View on Amazon
The Step2 Cascading Cove allows kids to play with sand and water at the same time. It has molded roadways that encourage your kids to have creative playtime. You can think of the design like the natural arc of a beach cove with a bridge that connects the two areas.
It has two separate sides, one for sand and one for water. Kids can play with sand, building sandcastles, as boats play in the water. When your child is done, parents can cover the table with a protective lid, and it acts as an additional play surface.
The sand side of the table holds up to 10 pounds of sand while the water side of the table holds up to 3 gallons of water.
This water table has similar features as the other Step2 tables. It has elastic tie-down notches for the lid, easily detachable legs, and an umbrella holder – with the umbrella included. Plus, just like the other models, it has a drain plug in the water compartment for easy removal.
PROS
Beach Theme
Convenient Drain Plug
Separate Sand and Water Areas
Included Umbrella
CONS
No Accessories
Drain Plug Leaks
View on Amazon
The WaterWheel Activity Play Table is ideal for toddlers who are, at least, 18 months old. The falling water action is the perfect activity for toddlers, and a funnel activities the wheel when water is poured. After your child pours water into the funnel, the wheel spills water into the table, letting kids splash and play with the toys.
The height of the WaterWheel Play Table is perfect for toddlers; it's elevated to their arm's reach. It is large enough that up to three kids can play at this table at the same time. The table holds up to four gallons of water. Step 2 also includes a cup, two boats, and a water wheel tower.
One thing to note is that this water table may be easy to fill, but it doesn't have a drain. So, that means it can be difficult to empty. You have to turn the table upside down to remove the water.
PROS
Fits 3 Kids
Great Height
Fun Activities
CONS
No Drain Plug
Boats Fall Apart Easily
Final Words
We know that water tables are beneficial and fun for kids. Kids should be allowed to play with water as they want, using their imagination and creativity. Water tables are more than fun; they're educational and encourage development.
That's why all kids need to have the best water table for kids. You'll be shocked at the amazing effects it can have. As you can see, most water tables aren't expensive, and even the simple ones can be considered awesome by your kid. Give one of these best water tables for kids a try!
Disclosure: Raising Them is a member of the Amazon Affiliate Program. We may earn compensation from clicks to Amazon and other websites.