Note: Always consult with a medical professional prior to making decisions on behalf of your child or if you are pregnant. This article is not medical advice. Raising Them is ad supported and may earn money from clicks.
When you have a little one, keeping them active and entertained can be just as important as making sure they're learning and growing well. Parents are often torn between the struggles of trying to make sure their little ones are developing important life skills, while also wanting their toddlers to have a good and enjoyable childhood.
Fortunately, there are plenty of options for parents who want their next presents for their little one to be educational as well as fun.
A good educational toy is as entertaining for your toddler as it is educational. After all, your child has to engage with the toy to learn from it. Keeping that in mind, we've picked some of the best educational toys out there for 2-3-year-olds.
Some of our picks might surprise you! We'll also discuss how each toy aids in your child's education and development along the way.
Budget
Play-Doh Modeling Compound 36-Pack Case of Colors
4.7/5.0
Check Amazon
Best Value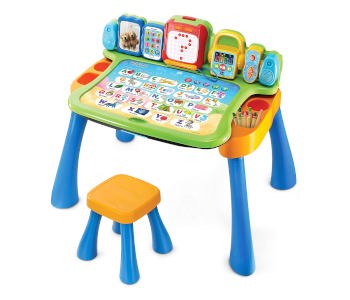 VTech: Explore & Write Activity Desk
4.8/5.0
Check Amazon
Top Pick
LeapFrog Scoop & Learn Ice Cream Cart
4.9/5.0
Check Amazon
Quick Comparison:
This reference table is a great way to check on how much space a toy is likely to need, and what kinds of skills you can expect it to develop. Read on for a more detailed description of each toy and how they work.
| The Toy | Skills Developed | How Many Pieces? | Check the Price |
| --- | --- | --- | --- |
| VTech Rhyme & Discover Book | Motor skills, language | 1 | Check the Price |
| SoftZone Climb and Crawl Activity Play Set | Motor skills and spatial reasoning | 5 | Check the Price |
| Stacking Peg Board Toy Set | Numbers, colors, motor skills, spatial reasoning | 68 | Check the Price |
| IQ Toys Pretend Cutting Food Playset for Kids | Fine motor skills, color, food recognition | 40 | Check the Price |
| LeapFrog Scoop & Learn Ice Cream Car | Numbers, memory, sequential thinking, pattern recognition | 22 | Check the Price |
| Play-Doh Modeling Compound 36-Pack Case of Colors | Colors, motor skills, imagination | 36 | Check the Price |
| Step2 Heart Of The Home Kitchen Playset | Motor skills, imagination, | 41 | Check the Price |
| VTech : Explore & Write Activity Desk | Alphabet, numbers, sequential thinking, pattern recognition | 2 | Check the Price |
| Just Smarty Electronic Interactive Alphabet Wall Chart | ABC's and 123's | 1 | Check the Price |
The Toys:
View on Amazon
Editor's Rating: 4.6
The Vtech Rhyme & Discover book is a small electronic book that's perfect for keeping your little one stimulated and entertained on their own. It's suitable for 2-3 year olds, and can be a good option for younger toddlers and babies as well.
The book is designed to be durable, easy to clean, and difficult to permanently damage.
When the book is on, your little one will have access to recorded lullabies and nursery rhymes to stimulate their auditory senses and help them learn new words. Even when it's off, the book is filled with small toys and interactive sections that will keep your curious learner entertained for hours.
The combination is very stimulating, and will help keep your baby's attention as they learn. The longer they listen, the more words, and even music, they'll learn. The more your child plays with the book's interactive pages, the more fine motor control and coordination they will develop.
When it's time to shut the book off, simply flip the switch, or remove the batteries. Cleaning is a breeze, and you can keep the book sanitary with disinfecting wipes.
Overall, this toy is a great option for babies though early school age toddlers and children. You can give your child time to independently play with this toy, or can sit with them and read aloud from the book.
Pros
Easy to clean
Easy to store
No moving parts that can be lost
Teaches fine motor control
Teaches language recognition
Helps kids learn to engage with books
Cons
Requires batteries
Recordings are only snippets of the songs and rhymes
Specs
1 lbs
Takes 2 AAA batteries
2 volume settings
3 buttons
Plays a different song or rhyme on each page
View on Amazon
Editor's Rating: 4.4
This pay set is perfect for kid who are working on their gross motor skills and spatial recognition. The foam playset is fun to use, and each piece is lightweight enough that your little one can pick them up and move then around.
Because these mats are big enough for your little one to climb and play directly on them, your child will also learn more muscle control and spatial awareness.
These toys can also be a great way to introduce some safe 'risk taking' into your child's life. As they stack and climb and play on the large foam play pieces, they'll also learn about heights, edges, falls, ramps, and how flat and curved surfaces interact.
Just like smaller geometric blocks teach about space and shapes, so will the larger play foam blocks.
Activity play sets like this one are also fantastic for imagination play, and your toddler will be sure to make up all kinds of stories about what they do on their playset.
The set is easy to clean and maintain. The seams are sturdy and won't blow out or start to sag easily. The bottom of each shape offers a grippy surface to prevent the blocks from moving around or coming out from under your little one.
They can also be cleaned with soap and water or disinfecting wipes to keep the whole playset clean and sanitary.
Pros
Encourages multiple types of play
Promotes physical activity and learning about movement
Teaches about shapes
Teaches your little one risk-management, in a safe way
Easy to clean and maintain
Cons
Children may lose interest as they approach their 4th and 5th birthdays
Requires a lot of storage
Can cause mild carpet burns
Specs
5 large foam play pieces
9 lbs total weight
24-inch max piece height
View on Amazon
Editor's Rating: 4.6
If you're looking for a versatile toy the encourages independent play, problem solving, and creative thinking, this is a good option. The simple pegboard set initially doesn't look like much. But your child will learn fine motor skills, along with other vital knowledge just by stacking the various pegs.
You'll get two different peg boards, a solid color option as well as a striped peg board. Both allow for stacking and manipulating the toys, which come in a variety of different colors.
As they play, your little one will quickly learn color recognition, numbers, pattern recognition, sequential thinking, and much more.
While your little one will doubtless learn those things during independent play, you can also play with them, or challenge them to complete specific tasks with the peg board and pegs.
Additionally, this kit comes with a storage bag and 6 multi-colored stacking cups. Incorporating the cups in with peg board play adds additional layers of play and learning for your little one.
This toy also isn't overtly educational, which can be an asset for children who dislike toys with too much stimulation or that are more an educational tool than they are a toy.
Cleaning and keeping track of all the pegs can be a bit of a challenge for some little ones, however. You may need to help your child keep this set contained and accessible.
Pros
Teaches number sense
Teaches color recognition
Develops pattern recognition and sequential thinking
Free play opportunities
Comes with its own storage
Cons
Lots of small parts
Can be difficult to clean
Easy to lose or mis-place pegs
Specs
60 multicolored pegs
2 peg boards
6 stacking cups
Storage bag included
View on Amazon
Editor's Rating: 4.3
One of the main ways little kids learn is through imitation and mimicry. If you cook a lot of food at home it should be no surprise that your little one starts trying to emulate you. But, getting your little one some food-themed toys can be a lot more than a simple way to entertain them. Food toys can also develop important knowledge and skills.
This 40 piece food set includes a wide variety of fruits and vegetables, along with an egg, starches, and even a pizza. Your little one will also get a play knife and cutting board. And the whole set comes in it's own storage bin, to make things easier for you.
Just free play with these food toys will develop fine motor skills as your child learns to 'cut' apart the Velcro connected food pieces.
But you can add to the fun, teaching your little one about different fruits and vegetables, teaching colors, counting. If your little one really enjoys playing with food, you can even begin teaching them basic recipes for their play cooking experiments!
These toys are also a fantastic opportunity for you to play together. Or your little one can join you when you prep vegetables for dinner with a play set of their own food.
Pros
Perfect for parent and child play
Teaches fine motor skills
Teaches colors, numbers
Can be used to teach about food and food types
Comes with it's own storage
Cons
Velcro can get dirty over time
Lots of small pieces that can get lost
Specs
24 Assorted Fruits and Vegetables, 3 Types of Fish, Egg, 4 Starches, 2 Poultry, Pizza,
Pizza cutter
2 plastic knives
plastic cutting board
Storage bin
All food items can be cut in half and Velcro back together
View on Amazon
Editor's Rating: 4.9
The LeapFrog scoop and learn ice cream cart might not look like a particularly educational toy at first, but it actually builds an impressive number of different skills.
The toy is a small cart that is sectioned into two halves. On one side of the ice cream truck, your little one will be able to prepare and sell fake cones of delicious looking ice cream. On the other side, a steering wheel and truck design are perfect for 'driving' around the house.
The set also comes with 6 different 'order' cards, requesting a specific type of sundae. Your little one will develop memory skills and sequential thinking as they work to prepare the kind of sundae their customer ordered. Or, if they are playing with siblings, or even you, they'll learn from spontaneous orders.
The toy also teaches fine motor control, since it's required to 'scoop and serve' the ice cream properly. Plus, additional skills like counting and color recognition are also built organically while using the toy.
This is a toy that's also fantastic for imagination play, which is critical for building problem solving skills and well as social skills.
This toy made our top pick because it seemed to appeal to the widest range of children. It builds on a huge variety of skills that are critical for the 2-3 age group, works for solo play as well as group play, and isn't a gendered toy.
It also develops basic counting skills. The cart counts to ten when your little one presses the syrup or coin buttons.
It also offers its own storage, and works as a toy even after several of the smaller pieces are lost. However, it can be a bit difficult to keep this toy clean, especially if your little one plays with it outside.
Pros
Teaches sequential thinking
Helps memory and concentration
Teaches detail-oriented thinking
Helps with counting and colors
Great for imagination play
Cons
Lots of small parts
Can be easy to lose parts
Difficult to keep clean
Specs
20+ parts
Includes steering wheel, cash register, and other ice cream truck accessories
10 songs and melodies
Catch phases and other fun sounds
Seven challenge games
View on Amazon
Editor's Rating: 4.7
You might be surprised to see Play-Doh on a list of the best educational toys for toddlers and kids. After all, Play-Doh is hardly a new or high-tech kind of toy.
However, Play-Doh is a wonderful kind of free-form toy for your little one, especially if they are already showing a creative streak.
We've intentionally chosen a set that has a wide variety of different colors included. Smaller sets also work, but large multi-color sets like this one can help with color recognition, and even start developing early color theory skills.
You see, many parents try to prevent their little ones from mixing the different colors, but that's half the fun and benefit of Play-Doh. Not only can your little one see the different colors and learn to differentiate them, they'll also learn about how things can be changed, and how colors interact with each other.
Play-Doh is non-toxic, and doesn't taste very good, so you also don't need to worry about your little once deciding it's time for snack.
The toy can also help with shape recognition, fine motor skills, and creativity. Much like drawing is an important part of childhood development, learning to shape and manipulate different items with their hands is also critically important.
The biggest down side of Play-Doh is that it can dry out if it isn't properly cared for, and it can make a bit of a mess if your little one gets carried away.
However, it's an affordable, versatile, and immensely entertaining toy for your little one. You can even join in the sculpting fun with them!
As a side note, Play-Doh can also be very soothing and comforting for children that are drawn to kinetic toys and experiences. You can use Play-Doh as a stress-relieving toy for many children.
Pros
Free form play
Helps with color recognition
Teaches about color blending
Teaches about changing things
Develops fine motor skills
Can help de-stress
Works for solo and group play
Cons
Dries out if not cared for
Can make a mess
Specs
36 different colors
Plastic bins and lids are made from recycled materials
View on Amazon
Editor's Rating: 4.5
This is another toy that really benefits from your kid's desire to mimic you and to act like an adult. Toy kitchens have been a staple of raising little girls for years now, but the toys are better and more complicated today. They're also less gendered, with plenty of options that look more like a real kitchen (like this one) and less like a pink and pastel fairytale.
Kitchens are a great way for your little one to engage in imaginative play. They can help develop fine motor skills, in addition to gross motor skills as your child navigates the toy.
Kitchens can also help to develop organization skills. Your little one may not put things away in a way that makes sense to you, but most kids will develop a firm if changing sense of where different parts of their new toy should go.
This 41 piece set can also help your little one develop an interest in kitchens and cooking. While you cook, your little one can entertain themselves doing the same, sparking more interest when it comes time for the first few real cooking lessons.
While this toy doesn't teach any concrete school skills like numbers or colors or their ABC's, a kitchen will still help your little one develops a ton of useful and relevant physical and mental skills.
Pros
Encourages free play
Develops fine motor skills
Helps your little one stay engaged with you
Develops interest in food and cooking
Perfect for imagination play
Cons
Doesn't develop school-related skills
Takes up a lot of storage space
Lots of small pieces
Specs
41 pieces
Kitchen set
12 x 45.1 x 48 inches
14.51 pounds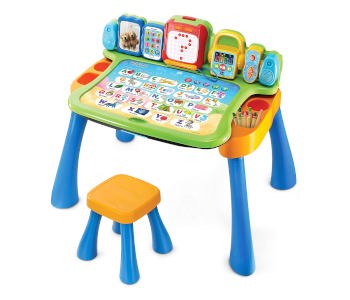 View on Amazon
Editor's Rating: 4.8
The Vtech Explore and Write activity desk is probably the most school-oriented toy on our list. This is a good option for families with one little on in school, and one little one not quite ready for school.
The desk mimics the experience of being in the classroom, but with a lot more freedom for imagination and play. They can sit or stand at the desk, interact with the toys and buttons on the desk itself, or just turn it off and use it as a play surface for other toys.
But beyond just mimicking the experience of school, this toy also helps develop those critical early school skills that children need before they can start learning more.
The desk teaches basic ABC's and relies on word sounds and associations to help the learning stick. It's brightly colored and fun to look at and interact with. The desk also teaches basic numbers and counting.
The interactive desk also has two volume buttons, and a ton of different visual and auditory stimuli to teach and entertain at the same time. Even if your little one realizes they are learning, most toddlers are excited to learn when it's presented to them this way.
Pros
Great for school prep
Teaches a lot of basic early learning skills
Volume control
Lights and auditory stimuli
Relies on multiple types of learning and builds associations
Cons
Requires batteries
Can be annoying for parents in the room
Specs
18.2 x 26.4 x 22.1 inches
8.05 pounds
100 vocabulary words
20 activities
20 songs and melodies
View on Amazon
Editor's Rating: 4.4
The last toy on our list, this toy is a little different. It doesn't take up space on the floor, and your little one won't interact with it like their other toys. Instead, this interactive poster will entertain your child a little more like a TV or a tablet, but for educational purposes.
The interactive alphabet wall chart is an excellent addition to your child's room, nursery, or playroom. It can even be put up in the living room, or anywhere there is reasonable wall space.
The chart uses pictures, bright colors, and a clear alphabet and a 1-9 number pad to teach basic letters and numbers. Your child and choose between a range of different modes, from sounds and melodies teaching them the names of each letter and number to a search game that asks them to find the right letter or number on the pad.
Not only does this teach basic ABC's, but it also teaches recognition and quick thinking, helping your baby build skills that will serve them well in school.
It's also one of the longer lasting toys on this list since it will likely continue being a useful tool right up until your child is reading confidently on their own.
Pros
Teaches basic school skills
Easy to use
Variety of different modes
Teaches reactions, critical thinking, pattern recognition, and adaptability
Provides stimulation to keep kids learning for hours
Cons
No interactive pieces
No moving pieces
Not as good for kinetic learners
Specs
24 x 16 x 0.1 inches
9.6 ounces
9 popular kids songs
Takes 3 AAA batteries
Disclosure: Raising Them is a member of the Amazon Affiliate Program. We may earn compensation from clicks to Amazon and other websites.