Note: Always consult with a medical professional prior to making decisions on behalf of your child or if you are pregnant. This article is not medical advice. Raising Them is ad supported and may earn money from clicks.
When you have a new baby your crib is one of the most important pieces of furniture you own. Sure, bassinets and other alternatives can offer temporary solutions, but nothing will be safer or healthier for your child than a good crib.
While cribs are heavily regulated, just like other furniture for infants and small children. But that doesn't mean that there isn't a wide range of options. There are still plenty of decisions to make before you can get the perfect crib for you and your growing family.
This article covers some of the best options, as well as addressing some of the things you need to know before getting a crib.
Let's get started!
Bargain
Graco Benton 4-in-1 Convertible Crib
4.4/5.0
Check Amazon
Best Value
Dream On Me, Anna 4 in 1 Full-Size Crib and Changing Table
4.7/5.0
Check Amazon
Top Pick
Storkcraft Portofino 4-in-1 Fixed Side Convertible Crib and Changer
4.9/5.0
Check Amazon
The Cribs
Convertible?
# of Mattress
Positions
Check the Price
Babyletto Lolly 3-in-1 Convertible Crib
Toddler bed and Daybed
4
Check the Price
Storkcraft Portofino 4-in-1 Fixed Side
Convertible Crib and Changer
Toddler bed, day bed,
full-size bed
Adjustable
Check the Price
DaVinci Jenny Lind 3-in-1 Convertible
Portable Crib
Toddler Bed, Day Bed
4
Check the Price
Dream On Me 4 in 1 Aden Convertible
Mini Crib
Day Bed, Twin Bed
3
Check the Price
Dream On Me, Anna 4 in 1 Full-Size
Crib and Changing Table
Day Bed
No
Check the Price
Graco Benton 4-in-1 Convertible Crib
Toddler bed, day bed,
full-size bed
3
Check the Price
The Cribs
View on Amazon
Editor's Rating: 4.7
This crib is a good option for parents who are looking for a well-constructed crib that doesn't have a lot of frills, but that does get the job done. It's available in two different colors, a black and natural wood combination, and a white and natural wood combination.
The crib is a basic rectangle, which makes storage a lot easier. It's also easier to fit into a smaller room or nursery or to add this crib to your own bedroom furniture (recommended for the first 6 months)
The crib itself does need some extra equipment to make the transition over to a daybed. But, the included toddler bed conversion kit makes that process easier. Just keep the kit in your home somewhere while you wait for your little one to be ready for an upgrade.
The 4 different mattress settings make it easier to keep your kid safe without having to bend or twist too much. You'll also be able to set the mattress especially low for your growing toddler, increasing the odds of being able to keep them using their crib longer.
It's got smooth edges, and it doesn't have the exposed nail or screw heads you can see with other, lower-quality cribs.
Pros
Easy to put together
Smooth edges
Very safe overall design
Fits with most standard-sized mattresses
Adjustable mattress
Turns into a toddler bed
Cons
Doesn't have a separate bite bar
Specs
Greenguard certified
4 adjustable mattress positions
Comes with separate toddler bed conversion kit
50 pounds
Made with non-toxic materials
View on Amazon
Editor's Rating: 4.9
This crib combined with a changer is designed to be a long-term piece of furniture. It's an attractive design and comes in three different colors. Varied size slats not only make this crib a little safer for your child, but they also add to the aesthetic appeal of the crib.
Since this crib also turns into a fully functioning full-sized bed frame, that's important. Chances are you'll have this same crib acting as a bed frame while your child lives at home.
Storage can be a trick when it comes to baby furniture. There's a lot of stuff that your little one needs, and it needs to find it's own place in with your other furniture. The changing station that comes with this crib also has three drawers, and open shelving on the back.
That extra storage will let you keep everything your baby needs right next to their crib. The combination of both shelves and drawers also makes it easier to keep things that might be a risk for your children out of their reach.
This crib makes our top pick because it's safe, versatile, and beautiful. While it can have tricky assembly, like most cribs, it does a reasonable job of making the process as simple as it can be. The design is attractive without adding too many frills, and completely minimizes the safety hazards common to many cribs.
Pros
Comes with a changing table
Turns into a toddler bed
Grows with your child into a full-size bed frame
Comes in three colors
Adjustable mattress
Cons
Parts aren't labeled
Can be difficult to assemble
Specs
126 lbs
Changing table separate
3 colors
Turns into a toddler bed and full-size bed (with conversion kits)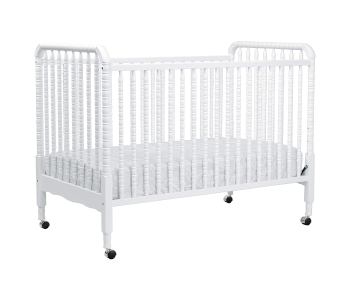 View on Amazon
Editor's Rating: 4.5
If you're concerned about VOC (volatile organic chemicals), this crib is a good option. Greengard gold certified, this crib won't have any harmful emissions, whether you have time to let it air out or not.
The crib is a fairly simple design, with decorated dowel construction. The rounded edges of the dowels add texture and interest, but they aren't at all dangerous for your little one.
This crib is also one of the more affordable options on our list, without giving up its versatility. However, despite many color options and classical design, this crib looks decidedly old-fashioned and may not be the best choice for parents who care about the appearance of their nursery.
The crib does turn into a toddler bed so that your child can get more use out of this piece of furniture.
The non-toxic paint on this crib is also applied in a way that makes it exceedingly safe, more so even than the standards set for children's cribs and beds.
Da Vinci also lets you match the look of this crib to other important baby furniture, like a changing table. If you like the old-fashioned appearance, you'll be able to match your whole nursery.
Pros
Easy to move locking caster design
Adjustable mattress for child safety and parent comfort
Greengard Certified
Painting process exceeds safety requirements and recommendations
Easy assembly
Cons
Can be difficult to get replacement parts
Specs
37 lbs
Painted wood construction
Turns into a toddler bed and a day bed
Crib posts on locking casters
4 adjustable mattress positions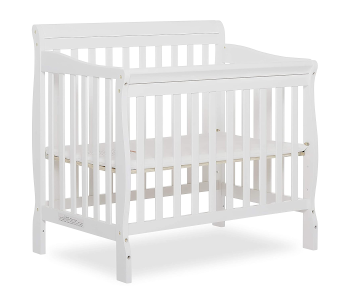 View on Amazon
Editor's Rating: 4.6
Mini cribs are often the furniture of choice for grandma and grandpa's house, but they can also be a good option for apartments and other small spaces. That way, you can still give your little one the best, without sacrificing more of your free space than you have to. Not to mention, it means more room for the other furniture your little one needs.
We especially appreciated that, despite being a miniature cradle, this option still turns into a toddler bed and a day bed. You aren't getting less for your money with this crib, it just comes in a smaller size.
The crib comes in a reasonable variety of colors, including a natural wooden finish. The design is reasonably attractive, without adding any decorations that could be a possible safety risk for your little one.
Tested to make sure it doesn't release any VOCs and made with non-toxic ingredients, this crib shouldn't impact your air quality or need to be aired out before use.
The adjustable mattress support inside the crib is easy to use and will make things easier for you as your little one grows. You can use a higher setting when your baby is smaller, and then lower the mattress to safe levels for your growing toddler.
Pros
Saves space
Attractive design
Non-toxic materials
High safety rating
Transitions to a toddler bed and a day bed
Includes everything needed for assembly
Specs
20 lbs
3 position mattress
Includes tools for assembly
7 color options
View on Amazon
Editor's Rating: 4.7
If you're looking for a full-size crib, but liked the look of Dream On Me's miniature crib, this full-sized crib might be a good option. It's a crib and changing table combination, which comes in 7 different colors. It's a fairly basic, but well-proven, design.
The wood and paint construction of this crib is very stable, less likely to turn over, walk across the floor, or have any other problems, no matter how rambunctious your kid gets in the crib.
You'll have the option of adding locking wheels to the bottom, but they aren't a requirement of the design. The stationary rail is very safe and will hold your little one no matter what.
You can also convert this crib to a toddler bed and then a day bed. The changing table is also discrete enough to use as storage shelving even when you don't need a changing table anymore.
The three levels of the mattress support system also make it easier to use as your child grows.
The changing station also has a security strap to help make it safer for your little one, even when they don't want to hold still anymore.
This crib made our best value pick because it's a great price for the combination of attractive and functional furniture that comes with it. It's safe to use, sturdy, and designed to last. You'll be able to turn it into a toddler bed and a day bed as your baby grows.
Pros
Most of the critical baby furniture in one
Lots of color options
Classical design
Easy to assemble
Safety strap for the changing table
Cons
Parts sometimes get scratched/dented in shipping
Specs
54 lbs
Crib and changing table
Turns into a toddler bed as your child grows
Comes with a stabilizer and guard rail
View on Amazon
Editor's Rating: 4.4
This crib is very like many of the other cribs on our list. It's met extensive safety standards, it's made from sturdy wooden construction, available in a few different colors. It's got an adjustable mattress, designed to make it easier to get your little one in and out of the bed when they're smaller, and safer when they're getting older.
It's more reasonably priced than many similar cribs, but without giving up on the quality control measures that keep your little one safe.
The design is simple but attractive. That's great because this affordable crib not only turns into a toddler bed and a day bed, it also turns into a full-size bed to keep your little one comfortable, even as they grow into a child and a teenager.
It's passed the standards for safety testing and other juvenile products requirements. It's effective, long-lasting, and incredibly durable.
This crib makes our best bargain not because it's the cheapest model out there, but because it's the most value for its price, incredibly affordable, and designed to eliminate other furniture expenses down the road. This crib may not be cheap, but it is an investment in the health and safety of your child.
Pros
Attractive design
Lots of safety precautions
Easy to use
Adjustable mattress bottom
Turns into a toddler bed, day bed, and a full-size frame
Cons
Lots of pieces to assemble
Specs
41 lbs
Wooden construction
3 mattress levels
JPMA certified
Meets ASTM and CPSC safety standards
Buying Guide
What is a Convertible Crib?
Cribs are the basic baby beds that help to keep your little one safe when they are young and small enough that they need some extra protection.
A convertible crib lasts a little longer than a traditional crib since they're designed to turn into other kinds of furniture for your child. Many cribs will at least turn into a toddler bed, but more advanced convertible cribs can turn into beds for your growing child as they get older.
Collapsing Sides:
This used to be a popular adaptation to make it easier to get your child out of their crib as they grow. However, collapsing sides on your crib can be a safety hazard for your child, and they aren't allowed in cribs that have been manufactured more recently.
However, there is a difference between collapsing sides and folding sides. You can still get cribs with a folding side, and they're generally considered much safer than collapsing or slide-down sides. However, the fold will reduce the height of the crib side by less, making it less helpful for parents.
Added Decorations:
There are some beautifully crafted cribs out there, covered in decorations, with canopies over top, and other decorative elements.
Those cribs are beautiful, and they can make your nursery a prettier and more welcoming place. Unfortunately, additional decorations aren't usually safe for your little one. Not only can they be a climbing risk, but your child's clothing may also get stuck in the decorations.
It's important to stick to a fairly minimal and classical design, without a canopy. Those are the safest for your child. They're also easier to clean and maintain. Canopies, in particular, can collect dust, and become a health hazard in other ways.
Weight:
Weight is one of the things that many parents consider when they look at their crib. A lightweight crib might seem attractive if you have to take the crib up several flights of stairs or have a relatively small area to fit it in, but you generally want to go with a heavier crib over a lighter one.
Heavier cribs are safer because they are harder to turn over or overbalance. They're also sturdier, and more likely to last the whole time your little one needs them, and even turn into other furniture along the way.
Size:
Most cribs will come in a standard size, but it's worth looking at the dimensions of your crib to make sure you've got a good option. There are plenty of manufacturers who will tweak the dimensions of their cribs slightly, usually by no more than an inch or two, in an attempt to get you to buy your crib mattress from them.
While that doesn't necessarily mean that you won't be getting a good mattress, ideally you should try to get a crib that is standard sized only.
Slat Spacing:
The last thing in our buying guide is the distance between the slats on the bed. It's an important feature because slats that are too wide are a safety risk, but slats that are too close together are also a safety risk.
The wider slats are a problem because your child might stick their arms or legs through, and get stuck. Slats that are too small are a similar problem, but for fingers and toes instead of arms and legs.
You'll want to look for slats that are between 1.5 and 2.5 inches, up to 2.75 inches. One way to test is to try and stick a can of soda between the slats. If the soda fits, it's too wide.
Safety Tips For Your Crib:
Even the best cribs can still have problems if they aren't used safely. These tips will help you make sure that you have more than just a great crib, you have a fantastic bed set up for your child. They can also help inform your decisions when you're looking at different options for your little one.
The Two Finger Rule:
You need to get a mattress that perfectly fits your crib. If you have a standard size rectangular crib that should be easy. There are some cribs coming out now that come in circular or oval shapes, or that are perfectly square.
While those cribs are attractive in some ways, they require specialty mattresses as well. That's because you need to have a crib mattress that fits tightly enough you can't fit more than two fingers (ideally none) between the mattress and the crib.
Even if the mattress is pushed up against one side, the gap should be no more than that two-finger limit.
This is because your baby might be able to reach between the mattress, but not back out. You don't want them to accidentally get hurt because the mattress isn't a good fit.
No Canopies:
We've already mentioned this, but it's worth elaborating. The canopy design is beautiful, and it's something many of us think is attractive and beautiful when you see it in magazines and in art drawings.
However, canopies can be a safety risk in a few different ways.
For one thing, it's hard to wash your canopy often enough to stop it collecting dust. Then you'll have all that dust, pet hair, and other potential irritants sitting right above your crib.
The other problem with canopies is that they can collapse. Especially if they collapse when your baby is little, they can cause a host of problems if you don't notice that the canopy fell right away.
Tightly Fitted Sheets:
Tightly fitted sheets are just as much of a necessity as fitting your crib mattress to the crib itself. Your baby may play with the sheets in bed, especially before they start learning to sleep through the night. You don't want them to be able to lift the sheet up since they can get tangled in it and may not know how to get out.
We mention this because, like crib mattresses, many crib makers will also provide either their own tightly fitted sheets to go with their crib or will provide recommendations on their website for sheets that are known to work well with their crib.
You can look at user reviews, of the manufacturer's website, to get a sense of what sheets will work well with your new crib.
Final Thoughts:
Hopefully, this article will help you pick a great crib for you and your family, even if that crib isn't one of the ones on our list. We stand by all of our picks as some of the best cribs on the market, but we also understand wanting to look for a crib that matches what you want a little more closely.
We've also gone over some important information for picking a new crib and making sure that it's a safe fit for your little one. Refer to that information, and any safety information that comes with your crib, to make sure you're always on top of the safety requirements, no matter how many types of furniture you convert your crib into.
Disclosure: Raising Them is a member of the Amazon Affiliate Program. We may earn compensation from clicks to Amazon and other websites.