Note: Always consult with a medical professional prior to making decisions on behalf of your child or if you are pregnant. This article is not medical advice. Raising Them is ad supported and may earn money from clicks.
Humidifiers can be a great way to add a little comfort to your home. They can help keep you healthier, give you a better night's sleep, and just generally make life a little easier. They're even more important when you have a new little one, though. So you need to know that you have a good humidifier.
Keeping your newborn comfortable is one of the most important things you can do. A comfortable baby will sleep better and is less likely to experience the worst symptoms if the first few times they get sick.
A humidifier helps by making breathing easier, soothing sore throats, helping keep your child's skin hydrated and healthy, and so much more.
But like so many other common products on the market, it can be hard to know that you have a good humidifier when you buy one. This guide won't just point you to some of the best humidifiers, these humidifiers are the best specifically for your child's nursery.
Bargain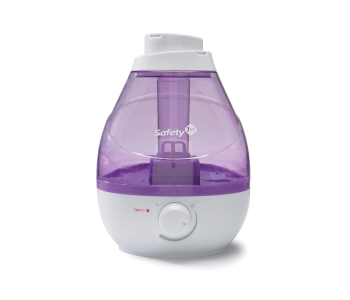 Safety 1st 360 Degree Cool Mist Ultrasonic Humidifier
4.5/5.0
Check Amazon
Best Value
FridaBaby 3-in-1 Humidifier with Diffuser and Nightlight
4.6/5.0
Check Amazon
Top Pick
Crane Ultrasonic Cool Mist Humidifier
4.9/5.0
Check Amazon
Make and Model
Style
Size
Anti-Microbial?*
Price
TaoTronics Cool Mist Humidifier
Cool Mist
6 Liters
No
Check the Price
Pure Enrichment MistAire Ultrasonic
Cool Mist Humidifier
Cool Mist
1.5 Liters
No
Check the Price
Honeywell HUL535B Cool Mist
Humidifier
Cool Mist
1 Gallon
No
Check the Price
Crane Ultrasonic Cool Mist
Humidifier
Cool Mist
1 Gallon
Yes
Check the Price
FridaBaby 3-in-1 Humidifier with
Diffuser and Nightlight
Cool Mist
.5 Gallon
No
Check the Price
Hygro Plus Cool Mist Humidifier
Cool Mist
2.6 Liters
No
Check the Price
Vicks Starry Night Cool Moisture
Humidifier
Cool Mist
1 Gallon
With an optional filter
Check the Price
Safety 1st 360 Degree Cool Mist
Ultrasonic Humidifier
Cool Mist
2 Liters
No
Check the Price
Honeywell HCM350B Germ-Free
Cool Mist Humidifier
Cool Mist
1 Gallon
Yes
Check the Price
*Note, when we mention anti-microbial properties in this table, we're not referring to the effect of added humidity itself, just whether the humidifier purifies the water in some way before releasing it.
Added humidity in a room can decrease the presence of some harmful viruses and microbes, like the flu virus. However, persistent, high levels of moisture in the air can also encourage the growth of some harmful substances like mold and mildew.
The Humidifiers
View on Amazon
Editor's Rating: 4.7
This cool-mist humidifier is a good option for people who don't want to have to refill their humidifier more than once every day or two.
Especially if you only run the humidifier at night, TaoTronic's 6-liter tank can last through several days of use.
It's available in both black and white. The nightlight that turns on when in use, and indicates low water levels, can also be turned off. A small button on the front of the tank toggles the light. That way, if your little one prefers a darker room, you can give it to them.
This humidifier also has an auto-off feature that helps avoid loud gulping noises and helps the humidifier last longer. That way, you don't have to worry about a burnt-out appliance just because you waited 1extra day to fill it.
Pros
Extra-large water tank
Quiet operation
Option light, easy to turn on and off
Auto-shutoff feature
Indicator light tells you when the water level is low
Multiple intensity settings
Cons
A large tank can be difficult to fit into your sink
Larger tank can be harder to clean
No anti-microbial features built-in
Specs
6-liter tank
Designed to run for several days
Optional indicator light
360 humidifier intensity control dial
View on Amazon
Editor's Rating: 4.6
The Pure Enrichment MistAire offers a more classical humidifier design, combined with quieter operation, an optional nightlight, and an automatic shutoff.
That means that you can create a perfect environment for your little one, whether they prefer perfect darkness or moderate light. The quiet design of this humidifier also means that it's less likely to wake your baby in the middle of the night.
Designed for up to 16 hours of continuous use, it's perfect for overnight and naps.
The 1.5-liter tank is a good side for most medium-sized rooms. That means it's also suitable for your home office, or other small rooms if your child doesn't need a humidifier when they get older.
Pros
Good for 16 hours of operation
Reasonably sized storage tank
Comes with a 5-year warranty
Adjustable directional nozzle
Cons
Some users report their unit starting to leak after regular use
No control over the light
Specs
1.5 Liter tank
16 hours run time on high settings
Comes with a power adaptor, cleaning brush
View on Amazon
Editor's Rating: 4.4
Another filter free cool mist option, this humidifier is designed for all medium-sized rooms. Available in black and white, this is a good option if you don't want to add another light to your baby's nursery. It works quietly and efficiently, without the need for additional indicators or lights.
With variable humidity settings, you can control the amount of moisture in the air.
Adding a little extra humidity also helps cut down the static electricity in the room. It's also great for pulling allergens out of the air. And if your little one has a sore throat or even croup, a humidifier will help them sleep easier and more comfortably.
Pros
Runs for up to 24 hours per filling
Helps clear allergens out of the air
Cuts down on static electricity
Compact enough for small spaces
Cons
Gets noisier over time with regular use
Bottom of the water tank can crack
Specs
1 Gallon tank
Designed to work for a full day
No lights
Easy to control intensity dial
View on Amazon
Editor's Rating: 4.9
One of the most trusted names in humidifiers for babies, Crane's humidifier is designed with your child specifically in mind. Available in 8 different colors, you can pick a shade that fit's your baby's personality. That way, the new equipment will be less strange and more appreciated by your little one.
Variable mist settings make it easy to adjust to a level that is comfortable for you and your child. That means you can also turn the humidity up on drier days, or turn it down for higher natural humidity. A humidifier is also a great way to combat the dryness of central air conditioning and heating.
But one of the biggest features this humidifier offers is its anti-microbial properties. Made of a naturally microbe-resistant material, you can rest assured that the extra humidity in the air isn't carrying any extra guests.
While this humidifier will need to be refilled on a regular basis, it made our top pick rating for having fantastic performance overall. The added security of knowing that the humidifier tank is made of microbe-resistant materials creates better peace of mind.
Pros
Microbe resistant
Easily adjustable
Comes in multiple colors
Auto shut off feature protects the humidifier
Quiet operation
Cons
No way to turn the lights off
Specs
1-gallon tank
Water level indicator light
Dial for better control over humidity
View on Amazon
Editor's Rating: 4.6
If you're looking for something is a softer appearance to blend in with your other nursery appliances and décor, this may be a good choice. The frosted looking plastic has a soft glow, which can cycle through several different colors.
Those different colors create a soothing distraction and nightlight for babies and toddlers.
Meanwhile, you also have complete control over the amount of humidity released into the air. It can be a small flow, just enough to keep the air a little damp and comfortable, through to creating a tropical rainforest.
The nightlight feature can also be used even when the humidifier isn't used.
You can also add breathe easy drops, or essential oils to the humidifier to use it as a diffuser.
Pros
3 in 1 use
Soft nightlight
Easy to clean
Auto shut off feature
Cycles through 8 different colors of light
Cons
Buzzing noise when it's on
Specs
3 lbs
.5 gallon tank
Auto-stop feature
Light can be controlled independently of the humidifying
View on Amazon
Editor's Rating: 4.6
This humidifier is a little more technically advanced than most of the options on this list. Instead of having a control dial, you'll increase the intensity based on the exact level of humidity you would prefer.
In addition to the standard auto-off feature, this humidifier will also turn off when it senses the room has reached optimum humidity. It will also turn itself back on as soon as the humidity begins to drop.
Add to that the LCD display, easy, controls, and 7 different light colors, and this is an advanced humidifier.
Meanwhile, the 360-degree swivel head makes it simple to change the direction of the mist.
The screen will also display a small red drop to indicate when the water levels are low in the humidifier.
Pros
Multiple color lighting
Advanced LCD display
Auto low water shutoff
Auto humidity detection and shut off
Frosted plastic for softer light diffusion
Cons
Plastic is rather thin
Settings navigation is not very user friendly.
Specs
360-degree swivel head
2.6 liters
7 colors
Frosted plastic
View on Amazon
Editor's Rating: 4.6
If you're looking for more than just a humidifier, the Starry Night Humidifier might be a good option. In addition to adding better moisture to the air, it also projects a scene of stars and a moon up onto the ceiling for your child to look at and admire.
The display, as well as the humidifier light, is also available in several different colors.
The humidifier itself is available in both blue and red. It's got a 1-gallon tank. You have the option of using a filter to get a purer and healthier humidity. It also allows for easy control of the mist intensity, so you'll be able to pick the perfect comfort level for your room.
This humidifier is designed for medium to large rooms. But it works well on lower settings even in a small room.
This humidifier also has the option of Vicks scent pads. Those scented pads let you scent the humidity in the air to help open airways for easier breathing.
Pros
Provides a beautiful distraction for young sleepers
Allows you to control the humidity in the room
Multiple color settings
Large tank
Easy to clean
Can scent the water
Cons
Some users report a leaky base
Specs
2 color choices
7 color light
1-gallon tank
Good for about 1 day's continuous use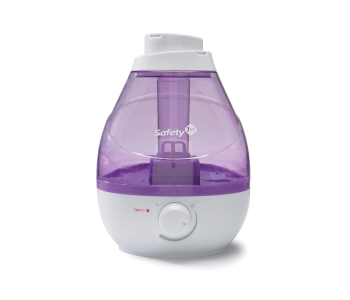 View on Amazon
Editor's Rating: 4.5
This humidifier is a good option for parents looking for a reliable humidifier at a better price. It's also a good choice for parents with multiple children sharing a room. Because it has two outlets you have a little less control over the mist direction, but it will cover a larger area on its own.
Not to mention that the double nozzle design means that you'll have more evenly distributed humidity throughout the room.
Available in a soothing teal or a lavender purple, you'll be able to match this humidifier to most room décor.
The dial is easy to control and set the intensity of humidity you want to produce.
The quiet ultrasonic operation won't disturb little ones in their sleep.
Pros
Designed for nurseries with multiple children
A couple of color options
Easy intensity settings
Easy to clean
Cons
The lid is a little delicate
Less direction control over the humidity
Specs
2 nozzle openings
2-liter tank
Variable intensity settings
View on Amazon
Editor's Rating: 4.6
This humidifier is another anti-microbial option for parents who want to ensure the best possible health for their children. The larger tank design also makes this a good option for people who don't want to have to worry about re-filling the humidifier frequently.
This humidifier uses a patented UV light to cleanse the water before releasing it as mist. That last step helps prevent the spread of microbes through your home.
It's also able to produce a range of different mist intensities, so you can go from relatively low humidity to high humidity with ease.
Pros
Larger tank
UV light to clean water
Quiet operation
Comes in white or black
Sleek design
Cons
Large footprint
Some people don't like the sound
Specs
UV Filter
1-gallon tank
Multiple color options
How a Humidifier Helps Your Baby
There are so man different things you're supposed to have in your nursery, it can be hard to tell which appliances and furniture are most important, and which ones you can skip. If you're not sure whether you need a humidifier, this is how they can help your child.
Baby's skin is more prone to drying out than adult skin. That's why it's so important to help them stay moisturized and healthy. But keeping a little extra moisture in the air, especially at night when they're in the same room for longer, can help keep their skin more hydrated and healthy.
It's also one way to keep your child a little more comfortable while they sleep.
Added moisture in the air will help them stay hydrated and will keep their mouths from drying out. Anything that keeps your child more comfortable will help your baby (and you) stay asleep longer.
A good humidifier can also help get you and baby through those first few illnesses. The humidifier will help soothe sore throats, open airways, and keep your baby happier as their immune system learns and adjusts.
Buying Guide
Cool Mist or Warm Mist:
All of the humidifiers on our list are cool mist humidifiers. That's because the cooler temperature is more neutral in a room. Cool mist humidifiers are also less likely to be dangerous. A warm mist humidifier can cause burns and other safety hazards for small children.
However, a warm mist or steam humidifier can be significantly cheaper than a cool-mist alternative.
If you opt to go with a warm mist humidifier, try to make sure it's out of your child's reach, on a secure piece of furniture that they can't climb or tip over.
Size:
There are three considerations when it comes to the size of your humidifier. The size of the tank, the footprint of the humidifier, and the size of the room you want to humidify. Let's look at each.
Humidifier Tank Size:
The tank is where all the water in your humidifier should stay. But, a bigger tank doesn't always equal a better humidifier. After about a gallon additional capacity can get in the way.
That's because the tank still needs to fit in your kitchen or bathroom sink to be filled. If you have a deeper mudroom sink, you could always use that. But even then, there are limits to how big a functional water tank can be.
On the other hand, a small tank will need to be refilled more often or can indicate a humidifier that is less effective than the alternatives.
Aim for something around a gallon for a large tank, and no smaller than 2 liters for an average humidifier.
Footprint:
The total size of your humidifier also matters. Larger humidifiers can be more powerful, releasing more mist, and affecting the humidity in your home that much faster. But they also require more storage space, might need more power, and can be awkward to fill and clean.
Smaller humidifiers take less space, but they also usually need to be refilled more often. A small humidifier can also be less stable, so you should look for one with a large base. While an infant probably won't be able to knock over a humidifier, a curious toddler will probably be able to.
That said, you might be able to put a smaller humidifier on a taller shelf or another hard to reach place.
Size of the Room:
The last thing to consider is the size of the room you're planning to use the humidifier in. A small nursery won't need a special humidifier. But a large room will need a larger humidifier to be effective. While some humidity will cross the room on its own, you may end up with one side significantly more humid than the other.
For a nursery, you can place the humidifier near the bed for the best results, but a larger humidifier might be better for a larger room.
How often do you need to clean it?
Another important consideration is how often your humidifier needs to be cleaned. A filterless humidifier might need to be cleaned every day, with a more thorough cleaning once a week. While a filtered humidifier might need less cleaning.
Other features, like a scent diffuser, can also mean you need to clean the humidifier more often to keep it in good working condition. But even if you don't need to clean it more often, you'll need to clean it more thoroughly to remove the residue from the scent.
A UV light or other anti-microbial properties can also mean less cleaning for a functional humidifier.
Cleaning is important both for the health of your baby, and the durability of the humidifier. So you should always clean the humidifier as directed by the manufacturer. But if you're already busy and don't have a lot of extra time for cleaning, you may want a humidifier with more self-cleaning and filtering options.
Conclusion
Hopefully, you feel more prepared to pick out the right humidifier for you and your child after reading this article. We've gone over some of the best options, how a humidifier can help keep your baby happier and healthier, and some of the product details that make a humidifier stand out.
While no humidifier is perfect, we really stand by the options on this list. We've tried to pick from a range of prices, but only including designs that are suitable for even the youngest children. These options are safe and effective.
But, we also hope our buying guide will help you pick a good option for you, even if the humidifiers on our list aren't quite right.
Disclosure: Raising Them is a member of the Amazon Affiliate Program. We may earn compensation from clicks to Amazon and other websites.