Note: Always consult with a medical professional prior to making decisions on behalf of your child or if you are pregnant. This article is not medical advice. Raising Them is ad supported and may earn money from clicks.
A baby activity table is a fun toy to engage your baby in learning from an early age. Most activity tables have a variety of toys that encourage the development of motor skills, thinking abilities, comprehension, and communication. Lights, sounds, and toys that require interaction are plenty of fun for your baby.
Babies from ages 6 to 12 months love to investigate, learning cause and effect. This investigation is how babies learn to understand the world around them. Activity tables give them a safe place to explore textures, sounds, lights, and movements. Plus, this entertainment gives you the opportunity to get something else done while your child is safely occupied.
Best Rated Baby Activity Table – LeapFrog Learn and Groove Musical Table
Best Wooden Baby Activity Table – Manhattan Toy Tree Toy Adventure Activity Center
Best Value Baby Activity Table – VTech Magic Star Learning Table
What is a Baby Activity Table?
A baby activity table is made from either non-toxic plastic or high-quality wood. They have buttons, levers, bright colors, toys, sounds, and other objects that encourage your child to play with the table. Activity tables encourage your baby to want to explore further.
Most baby activity tables are intended for little ones between the ages of 6 months and 3 years old, but some can be used for babies as young as 4 months old if they have a seat. Some have removable legs that let you use them with infants who are not yet standing, cruising, or walking.
A majority of tables include toys that play educational songs, display numbers, letters, shapes, and more. Some even come in multiple languages!
Why You Need a Baby Activity Table?
Babies need to have fun just as much as older kids! Having one helps your child physically develop, learning stability as they stand and walk. Activity tables are intellectual stimulation and entertainment for your baby, which is exactly what a growing baby needs!
Parents enjoy baby activity tables as well! They help keep your baby's attention, giving you a much-needed break. You can complete some chores, make lunch for your other children, or read a chapter in a book. We all need breaks here and there, and an activity table does just that.
Different Kinds of Activity Tables
Most activity tables that you find are battery operated with lights and interactive toys. There are some tables that have a classic feel, made with wood and toys that flip and spin rather than lights and sounds. The classic tables aren't electronic, but they can still capture curiosity with the activities that encourage problem-solving and motor skills.
Some activity tables come with detachable legs, so you can convert it into a floor play mode. That's a great choice for those who can sit unassisted but can't stand up without toppling over. Other tables have built-in walkers or chairs. Pick a table that lets you remove the chair once your child can stand and walk on his own.
How to Pick a Baby Activity Table
Picking an activity table is simple; all you have to do is decide what features you want for this early learning stage. Tables cover a variety of learning areas, like letters, colors, numbers, shapes, and more. Some tables are bilingual, which might be important for you if you want to raise a bilingual child.
A few other things that you might want to consider when picking a baby activity table.
Bilingual
For some parents, having a bilingual activity table is important. That might be because their home is bilingual or they understand the benefits of learning multiple languages at a young age. It's nice to have an activity table that offers two or more languages.
Recommended Ages
Take a look at the recommended ages. Some tables are better for older babies because of their size or type of activities. For maximum entertainment, pick a table that your child can use at their current or soon-to-be age.
Size of the Table
Size is an important factor as well, depending on the age of your child and how much space you have available. The more space you have available, the larger the table can be and vice versa. The height and size of the table should be comparable to the size of your child, which is the best choice for entertainment and safety.

If you have two babies, you need an activity table that can accommodate two or more babies at one time. You will also want to make sure the table has enough activities for two babies to avoid fights and screaming.

Available Activities
You don't want to purchase an activity table with 2 things. That won't keep your child entertained for long! Always check out how many activities there are and if they will keep your baby occupied.
Music
Do you or do you not want the activity table to play music? Some parents prefer to have something more simple without all the lights and music, which is a fine choice if that's what you prefer.

If you do prefer music, you have to decide if you want a table with full music or just a few tones. If you do want music, it's best to get one with songs and sounds for a complete educational program.

Sturdiness
You're spending money on this. Do you want it to break after a few weeks? Probably no! You want something that's firm and won't break down after your child plays with it a few times. It's also a good idea to great a table that won't topple over if your child uses it to help stand up.
Ease of Cleaning
Babies get their toys messy. You should want to pick a table that is washable, because your baby will make it sticky and covered in crumbs. If there is a chair or walker attached, the fabric should be detachable and machine washable for easy cleaning.
Cost
Just because it cost more money doesn't mean its better. Ultimately, you want to stick to your budget, but you also want to make sure you get enough value for your money.
The Best Baby Activity Tables
View on Amazon
There are only a few options for wooden activity tables, and the Manhattan Toy Tree is the top choice. The table is constructed of solid wood with beautiful details. It has a simple, yet fun, feel that makes it great for kids. The design makes it a good addition to your living space because the design and colors don't immediately scream a child's toy.
The Tree Toy is great for kids between the ages of 12 months and 5 years. It's quite heavy, weighing 10.63lbs. You might be worried about it toppling over on your child, but it sits on a four-section stand which prevents it from falling over. You can remove the base of the tree, making it reachable for smaller toddlers.
There are four sections to the able, each featuring an animal and insect friends that go along curved paths. They hide behind doors, and multi-colored beads travel along painted wire tracks. Manhattan Toys added shapes, dials, and gears to give your baby ways to focus and refine motor skills.
Kids love how much fun they can have with this one toy, and it's even great for older kids. Even though it's more expensive, you will get years of use. From the painted animals like a monkey and birds to the peek-a-boo doors, your child will increase his motor skills and imagination.
PROS
Non-Toxic Finish
Many Activities
No Batteries
Perfect Size
CONS
Doesn't Have a Floor-Play Mode
Not Good for Babies Under 12 Months
Expensive
Hard to Put Together
View on Amazon
You might have seen adorable videos featuring this activity center, showing babies running in circles around the table. It sure makes the babies excited! This activity table also doubles as a walker with a seat that moves 360 degrees around the table. So, not only does it promote your baby to learn how to stand, but it also helps teach your baby to walk. The base of the table is weighted to prevent tipping over, and you can remove the seat once your child can walk.
The walker is where this activity table really stands out with the 360 degrees rotatable walker. It goes around the table smoothly, giving your baby plenty of opportunities to strengthen their leg muscles. The seat has three adjustable height settings, so you can find the perfect setting for your child.
Bright Starts designed their activity table specifically to have multiple purposes. Not only did Bright Stars add the walker feature, but they added animal friends that slide, push, rattle, spin, and more. There are piano keys that play sounds and melodies, along with a flip book that has sounds and over 15 activities.
Bright Stars added a drink holder and a snack tray, which isn't a common feature on most activity tables. This table is best suited for babies who are between the ages of 6 months and three years. However, it can only withstand up to 25 lbs of weight, so make sure you know the weight of your child. Parents can remove the seat pad and wash separately.
PROS
Improves Motor and Fine Skills
Many Activities Available
Adjustable Height
Easy to Clean
Works as a Walker
CONS
Higher Price
Hard to Put Together
View on Amazon
If you want an activity table that has plenty of lights and music, the VTech Magic Star offers different learning toys and modes of play for your baby. The table is star-shaped, which is unique compared to other tables. You can detach the legs for floor-play, perfect for babies who cannot stand unassisted. VTech also added a bilingual option.
One of the favorite features is the steering wheel that drives a bear around the center of the table. The star button brings music and sounds, and the flip-page book plays nursery rhymes. VTech added piano keys to teach babies rhythm and color recognition.
Moms love that this activity table is affordable, great for parents on a budget. The colors are bright and keep your baby's attention, but that does mean it might take away from the adult look of your living room. It might be better in a playroom.
PROS
Bilingual
Floor play option
Affordable
Fun Colors
CONS
Easily Topples Over
Might Scratch Floors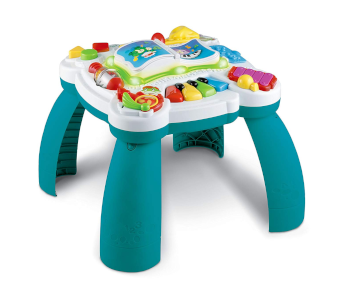 View on Amazon
The LeapFrog Learn and Groove Activity Table are one of the most popular picks, featuring two play modes: music and learning. Your baby can switch between modes of play by turning the pages of the book at the center of the table.
LeapFrog added a bilingual option, and there are over 70 tunes. Your child will spend hours with the entertainment options on this baby activity table. He can press, slide, pull, and play instruments, learning about cause and effect. Playing with these toys helps to increase your child's motor skills and understanding of shapes, colors, letters, and more. LeapFrog never fails to create toys that are guaranteed to teach our children.
The sing-along feature is adorable. Kids can learn songs like Old McDonald and the Itsy Bitsy Spider. Kids love that! LeapFrog added sounds from real instruments such as a piano, trombone, guitar, xylophone, and drum.
The size works great for toddlers, and LeapFrog recommends it for kids between the ages of 6 months and 3 years old. Some kids even older might find it enjoyable, but note that its only 5.8lbs. That means it will be pretty easy for your baby to pull over if they try to lift themselves up due to their body weight.
PROS
Bilingual
Multiple Modes of Play
Affordable
Easy to Figure Out
Assists Language Development
CONS
Can't Handle Being Pulled Up On
The Table is a Small Area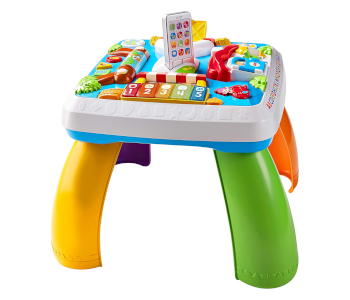 View on Amazon
Another fantastic choice is by Fisher-Price, and the Laugh & Learn Activity Table offers real-life roleplay activities and stations for your baby to check out and visit, such as a zoo, farm, a friend's home, and a market. There are three levels of age-appropriate educational play – 1: Explore, 2: Encourage, 3: Pretend.
Each place to visit has something for your baby to do. The zoo teaches your baby about animals and shapes with exciting tunes. The market teaches numbers, colors, and food. The farm features an adorable barn with peek-a-boo doors with animal friends hiding inside.
That's not all! Fisher-Price added an interactive phone at the center of the table. The phone makes calls, letting you role-play with your puppy friend. Don't forget that this baby activity table has bilingual options and several play options. There are over 120 songs, phrases, and sounds, keeping your baby's attention the entire time he is playing.
PROS
Affordable
Several Modes of Play
Bilingual
CONS
Poor Floor Grip So Table Slides
View on Amazon
The Sit-to-Stand has a unique, circular shape that is small and compact. It's a good choice for rooms that don't have a lot of space. Unlike other choices, it has three legs rather than four, letting it fit into corners and cramped spaces.
This table starts off by placing your baby into a seat, letting them play and spin. Once your baby can stand and walk on their own, you can take the seat out and put the car ramp on for extra months of fun. The seat can be adjusted for height, and the padding is machine washable.
Fisher-Price added several activities to this table like spinning toys, friendly animals, slides, and more. There are fun sounds and a colorful design that you and your child will like. It has a white base with teal accents, along with bright toys, that doesn't ruin the look of your living room. The car ramp is a favorite for all kids!
You don't have to worry about it tipping over. The table is sturdy and easy to assemble. It won't tip over even when your baby is cruising around, holding the table.
PROS
Usable from 4 Months and Up
Compact
Machine Washable Seat Pad
Lots for Babies to Do
Durable
CONS
Expensive
The Piano is Hard to Reattach
Picking the Best Baby Activity Table
A baby activity table may not be a true necessity, but your baby will love it. These tables help to encourage learning while fostering physical growth. Plus, you'll get a few extra minutes to yourself. What can be bad about that? Give one of these six choices a try.
Disclosure: Raising Them is a member of the Amazon Affiliate Program. We may earn compensation from clicks to Amazon and other websites.